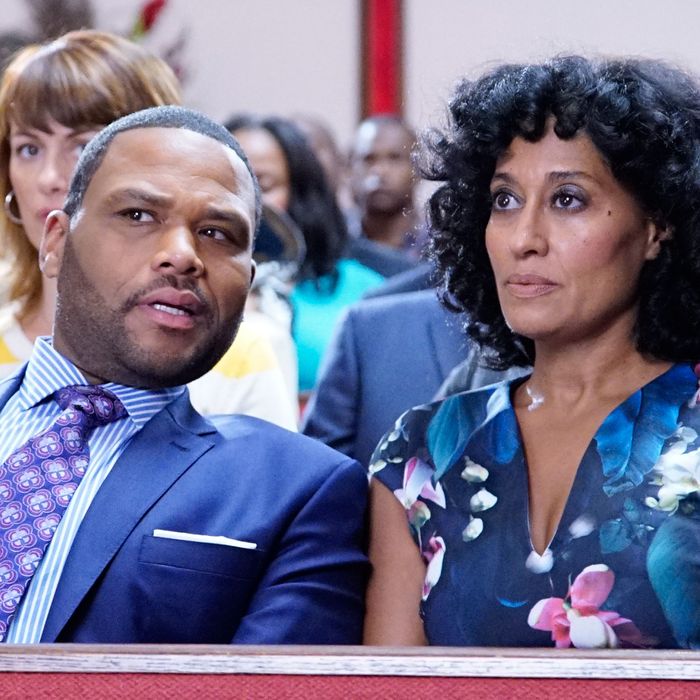 In the Johnson home, Sundays involve SAT prep and sports, so when the family is invited to church on Sunday by the neighbors, Dre goes against his instinct of always saying no and agrees.
Photo: Kelsey McNeal/ABC
Diversity in film and television has been a hot topic for the last several years, as social media has made it easier for marginalized voices to be heard. People of color have made it clear that they want to see themselves reflected onscreen. As a result, broadcast television currently is filled with doctors, lawyers, political fixers, forensic pathologists, astrophysicists, virgin mothers, record-company moguls, FBI agents, police detectives, advertising executives, and budding superheroes of varying nonwhite races and ethnicities, all as show leads and co-stars. What's great about all of this is not just racial diversity, but also the assortment of lifestyles presented. Black-ish situates its audience firmly in the life of an upper-middle-class family built on the foundations of the working class. It showcases how to create new traditions while examining those of one's childhood, so it was only a matter of time before religious practices became the topic du jour.
After realizing that constantly saying no to social invitations was affecting the kids' ability to bond with classmates, Dre and Bow decide to start saying yes more. This backfires when they're invited to a neighbor couple's church. Dre reluctantly agrees, roping the family in, with Junior as the only one receptive. Ruby is upset that it takes a pair of white people to get Dre back in church after she's been after him for years. She discovers that Jack and Diane are not baptized and tells them they're going to hell. Jack is scared of going to a hell worse than a WNBA game, but skeptical Diane doesn't believe God is watching.
The Johnson family attends the Coopers' church and enjoy themselves so much, they agree to go again. Unfortunately, everything they loved the first time, like the band and the sermon, annoy them, so Dre and Bow decide to play the race card and tell the Coopers that their church wasn't a good fit for them, culturally speaking. Those progressive Coopers stumble over themselves for making presumptions and offer to attend church with the Johnson family. Unable to find a way out and sticking to their vow of "yes," Dre and Bow accept. Later, they try to figure out how to make it look like they attend Ruby's church regularly, despite the fact that Dre considers them CEOs, attending church on Christmas and Easter Only.
It would've been easy to consider all of this as a setup for a large-scale "white people do this; black people do that" joke, and some of that is definitely there. The Coopers' church service lasts 45 minutes; it has a relaxed dress code; a band performs a single secular song easily interpreted for religious purpose. At Ruby's church, service lasts almost five hours. The choir sings six songs in a row. Prayer goes on for over 30 minutes, and the attire is much more formal and occasionally outlandish. But there is more to this episode than looking at how two cultures conduct religious practices.
Although Bow and Dre decide that neither church is the one for them, they both agree they like attending some kind of service, and decide to look for something that suits them and their family. Bow reveals she likes being connected to something bigger than herself. There are jokes about the length of service and about how many people end up on the "sick and shut-in" list, but there is also recognition of the significance of black churches in America. Dre points out how instrumental black churches have been as places of community and solidarity, from slavery through the civil-rights movement and beyond.
This episode airs after another rash of church burnings in St. Louis, Missouri, near Ferguson, home of much civil unrest following the death of Mike Brown at the hands of a police officer. During the summer of 2015, following the Charleston, South Carolina, massacre at Emanuel African Methodist Episcopal Church, several churches also caught on fire. It's good to see Black-ish give us this teasing tribute, to let many of us remember the traditions of our childhood, even as this center of community feels under attack in the present day.
I've perhaps made "Churched" seem more serious than it was, but the humor in this episode is so contextually layered, it would be hard to do it justice. This is one of those episodes you must act out in its retelling, and it's the best of the season so far. Laugh-out-loud moments were frequent. Jenifer Lewis as Ruby had more to do, and she shined. And the chemistry between Anthony Anderson and Tracee Ellis Ross bubbled more than ever as Dre and Bow pulled faces and cringed at the ideas of saying yes and going to church. This may be the episode that moves Black-ish from good to great.
Highlights
Ruby hunting down A.C. Green in Montego Bay to take his virginity.
Diane's court-mandated therapy.
"God is everywhere, except WNBA games. Nobody goes to those."
Dre's co-workers not allowing Lucy to refer to herself as a Jew.
"I do church. I even co-signed for my reverend's Bentley. My son can't buy a hot lunch, but I'm going to heaven."
"Is anybody okay at this church?"