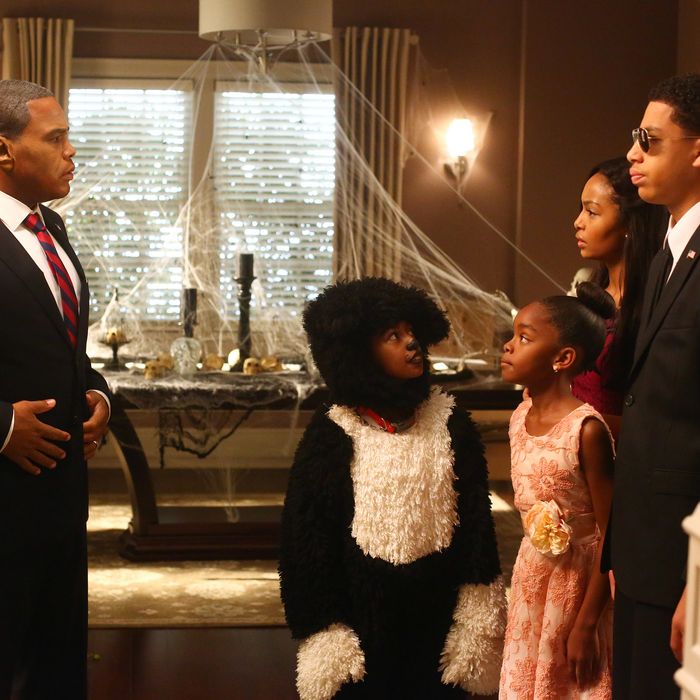 The Obamas.
Photo: Michael Ansell/ABC
I'm glad there won't be a new episode of Black-ish next week because I will need time to recover from last night's Halloween laugh-fest. With a cast so large, it can be difficult to make sure everyone gets a moment to shine. I definitely missed Charlie and the work gang, but the focus on family served the audience well and kept the laughs coming.
Dre has always loved Halloween, and his commitment to keeping it a family affair is commendable. Last year, the Johnsons dressed as the Jacksons. This year, the theme of black family royalty continues. We see them as the Obamas, with Junior as a Secret Service agent, Zoey and Diane as Malia and Sasha, respectively, and Jack as Bo the dog. Dre takes pride in living in a "good-candy neighborhood," a place where kids come from all over the Los Angeles area to get the more expensive treats. Those traveling kids also include Dre's nieces and nephews from Compton, who bully the Johnson kids, much to Dre's delight. He thinks it teaches them character and toughens them up.
The Johnson kids have been nervously looking out for their cousins, and Dre can't wait to let the fight begin. Little does he know, his children have been preparing for war. They launch themselves at their cousins in an epic bullet-time fighting showdown to the tune of "Real Muthaphuckkin' G's," Eazy-E's famous anti-Dre record. It is phenomenal. Even Junior, who's most like Bow in his peace-loving ways, replaces his usual beatific obliviousness with a snarl as he lands a punch against Cousin Dante. Of course, it's Diane who ends the battle, needing to be held back as she kicks Cousin Diamond while she's down.
Dre's delight at seeing his kids come out on top is short-lived. His cousin June Bug, a delightful Michael Strahan, who, dressed as 50 Cent, is all arms and bulletproof vest, has come with the Compton cousins. June Bug leans in to the stereotype of being a big, black man from the hood who's done time in jail and used to torment Dre when they were younger. June Bug continues his bullying upon his arrival. Maybe Dre liked seeing his own kids bullied by their cousins because it reminded him that he's no longer in their shoes.
Diane calls Dre out on this: "You wanted us to succeed where you failed," the mantra of all parents, perhaps. As Dre deals with the embarrassment of being teased in front of his family and the kids settle into a false sense of victory, the Compton cousins have waged a second battle, taking over Junior's room to destroy it. Once again, mastermind Diane comes through, suggesting she and her siblings don't have to engage in another physical attack. Instead, they resort to PsyOps, getting inside the cousins' heads by making fun of their parentage and off-brand shoes.
Diane is such a calculating treat. It's great to see her kicking the crap out of a cousin, smoothing her hair back in place, then laying out a plan of mental warfare in her Sunday best. I'm looking forward to a more Diane-centered episode.
The mental games work too well, leaving the cousins so defeated, they don't even want to go trick-or-treating. The Johnson kids go out, and a teen on a hoverboard steals Jack's candy, much to Diane's shame. They report back to the cousins, who refuse to allow their family to be insulted in such a way. All of the kids unite for revenge, coming back home victorious with hoverboards and costumes as the spoils of war.
Dre has been hiding from June Bug, doing "manly" things like pretending to fix the bathroom sink and changing the oil on the car to assuage his wounded pride. Finally, a decidedly anti-Halloween Mama Ruby (she's been passing out little Bibles instead of candy) explains that June Bug's frequent bullying was his way of protecting Dre. June Bug once pushed Dre out of a moving vehicle to keep him from getting arrested, which would've resulted in Dre losing his scholarship. Dre confronts June Bug and they end up roughhousing, but in a loving way.
Dre and the kids have been dealing with family battles, and Bow has been trying to prove to overprotective neighbor Janine that she doesn't need to be afraid of the older kids who come into the neighborhood. After last year's Halloween shenanigans, Janine has hired a Safety Ambassador, Officer Tuiasosopo (Peter Navy Tuiasosopo), who may not even have to use his Taser since he's Samoan and a former XFL player. Janine assures Bow that he has no power to arrest or detain anyone, and echoes of George Zimmerman's self-appointed neighborhood watch almost shake the television.
Bow is skeptical of the need for extra protection until some kids break her ceramic frog, show up on her doorstep without a costume but with dead, dead eyes, and demand she show her breasts. She hides out in her bedroom, realizing she has become Janine, who is outside doing the Nae Nae with the neighborhood kids.
At one point, June Bug mentions he has received a $2 million police-brutality settlement, and the kids comment on how Officer Tuiasosopo seemed to enjoy hitting children. Once again, Black-ish walks the line of historical commentary and resigned prescience. These quick jabs about the relationship between black people and police/authority figures arrive as the country deals with yet another excessive use of police force against a black teen.  This episode reminds us that only family is allowed to hurt us.
Highlights:
Dre as Tea Kettle, complete with whistle
The Misty Copeland shout-out
Junior mentioning The Burning Bed and Men Don't Tell
"Dude, I'm begging for a reason to root for you."
"Put 'em on the glass, FLOTUS!"
"Janine feels like F*CK THEM!"