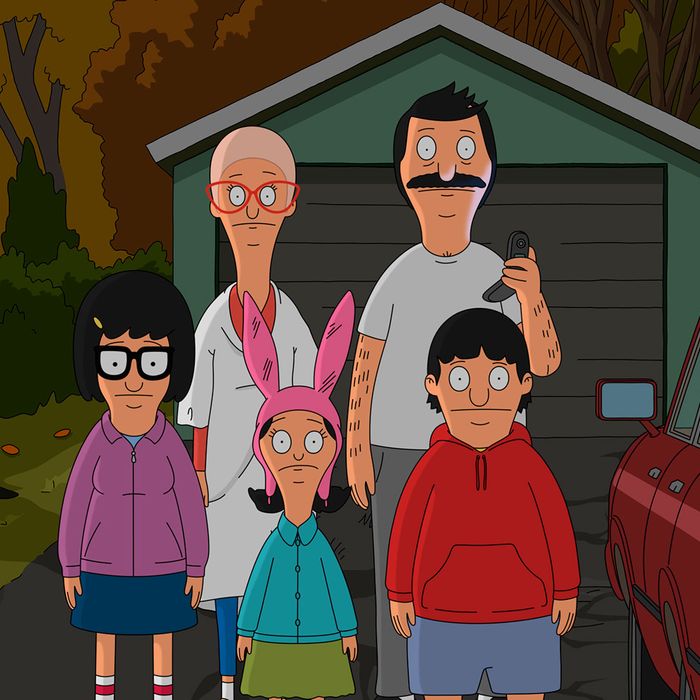 The Story
It's almost Halloween, so Bob's restaurant, along with everybody else at the wharf, is getting into the spooky mind-set. Almost everybody, that is. Louise is actually planning to roll her eyes for the next few weeks because she claims she's unscareable. Of course, that's impossible, but she makes the good point that haunted houses are more gimmicky than scary these days — mainly thanks to their super-predictable jump tactics and lack of originality. Personal feelings aside, this quickly turns into a Louise episode, in which Bob and family must give the youngest Belcher one good scare to revive her Halloween cheer.
The Highlight Reel
The best way to make someone think haunted houses can be scary is to take them to a really scary, homemade haunted house, right? That's the thinking that kicks off "The Hauntening." Going to a haunted house is apparently the Belchers' annual tradition, but this year the Belchers really go all out, renting their own house from one of Mort's clients and turning it into a private scare-fest:
[Unfortunately, it's not scary at all, but +1 point to Bob and Linda each for trying really hard (kind of), +1 more to Linda for all those amazing puns, and +1 to Louise for being as delusionally brave and cynical as a mini Donald Trump on election night.]
This Halloween installment takes a legitimate turn for the scarier, however, when the Belchers get stranded and Paranormal Activity'd at the house. Accordingly, here are some of the scariest scares and funniest funnies from the episode (warning: Spoilers about a certain twist follow, so if you haven't seen this one yet, hit this Hulu link and then come back for the reel of the best haunted house the Belchers have ever visited):
1. Oldy Scissor-Hands
Louise: Take a picture — it'll last longer.
Gene: Wait, don't take it yet! Catch me just as I'm looking over my shoulder … now!
[+1 to Louise for always saying the right sassy thing at the right time; +1 to Gene for always going the extra step in family photos.]
2. Screechy McPipePipes
Louise: Gene, did that come out of you?
Gene: My butt doesn't have that kind of technology — yet.
[+1 to Gene for never doubting himself and for being an inside-wind connoisseur even in a time of distress.]
3. The Hauntening
Gene: Just a fun family trip to the basement to get killed!
Bob: Lin, you're digging your fingernails into my arm.
Tina: Can I dig my fingernails into your other arm, Dad?
Gene: I call love handles. That's my word for the butt.
Louise: I'm already holding it — just because I don't want to fall down the stairs. Dad's butt is very sturdy.
Tina: Oh, look, they have a puddle in their basement, too.
Gene: It's ghost pee!
[+1 to Louise for recognizing how to be practical with weird body parts; +1 to Gene for unleashing his inner ghost hunter.]
4. The Stick-less … less Wonder
Gene: That isn't a good use of that room.
[Then +1 to Gene for unleashing his inner interior decorator, too; he is so versatile when he is scared. He is truly on fire.]
5. Speaking of fire: The Ring of Fire
Tina: Mom and Dad, you would tell us if we knew how to fly, right?
Gene: Is this what Burning Man is? Because I don't like it.
[+1 to Tina for being a Peter Pan truther; +1 to Gene for hopefully foreshadowing a Burning Man visit, in which they crash Segways Mad Max–style and hang out with high Susan Sarandon.]
6. The Scare
Mort's Mom: Is this gonna hurt my grass?
Mort: No, Mom, it's non-burning fire.
Mission accomplished. The show capped with an Illusionist-style epilogue explainer that breaks down how everybody, including Mort's Mom and Oldy Scissor-Hands aka Mort's Mom's new boy toy, worked together (aww!) to scare the crap out of Louise. Everybody loves Louise! Same.
[+1 to everybody.]
The MVP
In an episode that was itself very predictable and kitschy, the humor that undercut the "scary" moments here was its unpredictable, unique strong suit. (Which, yeah, kind of makes sense, but that's why Bob's is such a successful show: It delivers on what it sets out to do.) The countless puns, as well as the tongue-in-cheek comment on the dismal state of horror today, made this the best episode of the season thus far — a relevant, strategically crafted one that you probably have to watch twice in a row to appreciate all the winks and jokes. No complaints there.
Prevailing among the many LOL-worthy strengths this week was this installment's king of comedy: Gene. Not only was Gene able to convince Louise and us that he was really scared (he probably was a little bit), he also had some hilariously sentimental moments with his dad, crushed the one-liners, and ultimately didn't blow the surprise (hey, that's a big feat for Gene). TL;DR: I want Gene with me whenever I see a scary movie.
You can (re-)watch "The Hauntening" via Hulu here.
Bob's Bonus Sliders
The sound effects for the dancing witch were the most underrated part of this episode.
We probably need a standalone on Sponge Day, please.
"If you got it, haunt it."
Arth Vader rules.
Happy early Halloween!
P.S.: There's a new Boyz 4 Now song out, but for some reason Fox hasn't put it on the internet. It's totally irresponsible and unfair of them, I know! I'm keeping my eyes peeled, but here's a peek to tide you over: