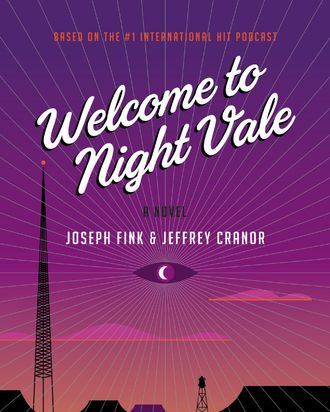 Based on the wildly popular podcast, Welcome to Night Vale is filled with mundane and surreal stories of the titular desert town and its inhabitants.  In our excerpt, chapter five, we follow 19-year-old pawnshop owner Jackie as she witnesses some eerie activity at the Moonlite All-Nite diner. (For the first four chapters in their entirety, head here. 
Jackie ordered coffee. Eventually coffee was given to her. These moments were related.
The Moonlite All-Nite was packed, as it always was in the morning. There were few places in town where one could quietly have breakfast in the company of so many other people also quietly having breakfast. There is nothing more lonely than an action taken quietly on your own, and nothing more comforting than doing that same quiet action in parallel with fellow humans doing the same action, everyone alone next to each other.
In her right hand was the coffee, served in a mug that said:
JONES BROTHERS WEED WATCHERS CO.
"WE WATCH YOUR WEEDS FOR SUSPICIOUS  BEHAVIOR!"
24/7 AUDIO AND VIDEO MONITORING.
It was part of the Moonlite All-Nite's charm. They used mugs gathered from any number of sources. Sometimes those sources left strange stains or humming sounds on the mugs. This was also part of the charm.
Her left hand clutched the piece of paper, where it had been clutched since yesterday evening. Earlier, she'd  tried burning the paper, but it came back from the ashes. She had placed the paper in a small lockbox, which she locked. It got out.
She tried showering the paper away. Taking a shower often solved problems for her. She would find herself with thoughts that seemed to come from outside of her, thoughts that would question decisions or offer suggestions or just consider life hazily in a way that made it seem like the thoughts could not possibly be her own.
When she'd held the paper directly under the stream of the shower, it had turned soggy and dissolved, falling into sludge that crumbled toward the drain. But then it was back in her hand. Over and over she destroyed it, and over and over it returned.
"Finally, a dependable companion," she said to the showerhead, and a thought popped into her head that was barely formed into words, more a general image of how often Jackie is surrounded by things she can depend on, and how little she thinks about them. She left the shower as most people leave showers, clean and a little lonely.
Sitting in the diner, out of hope for much else, she rolled the paper into a ball and shoved it into her oatmeal, along with the usual blueberries and salt cubes and cured salmon. She downed the entire bowl like she hadn't eaten in days, which might have also been the case. It was hard to tell, as she was hardly able to pay attention to much more than the paper. Her left hand twitched, and without looking down she knew.
"Dammit!" she said, stabbing the paper with her butter knife and then repeated "Dammit" a couple of more times in a hopeless decrescendo.
"KING CITY," said the paper.
"Yeah, yeah,  so I've  heard,"  she muttered.  No  one around her noticed. Teenagers shout things a lot while smashing knives near their hands, everyone knew.
The man on her left was poking the chipped countertop and whispering to it. His straw hat was set very far back on his head, so that his face seemed longer than it should be. On her right was a woman who had set her chair so it was facing the door to the diner and was making a checkmark on her clipboard every time someone walked in. All in all, no one cared about a young woman shouting and jabbing at her hand.