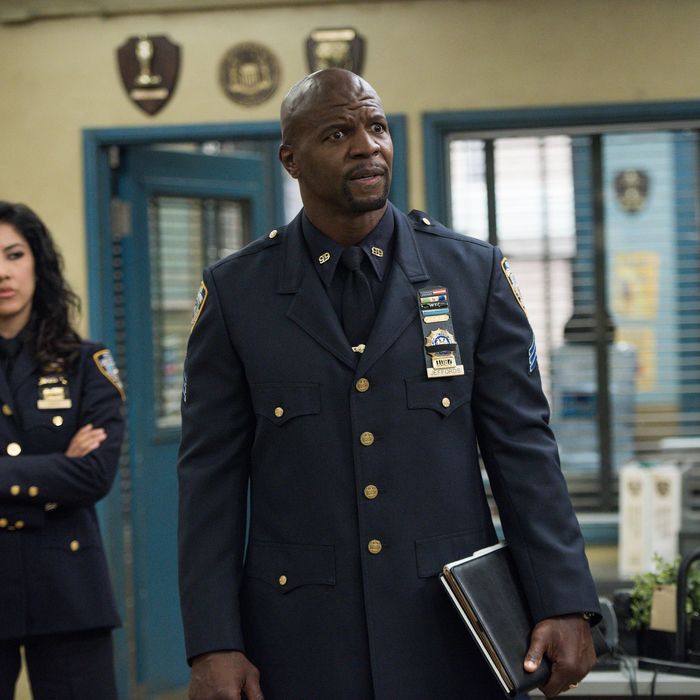 Rosa (left) and Sergeant Jeffords.
Photo: Eddy Chen/FOX
Bill Hader's Captain Dozerman may have been short-lived in more ways than one, but his death was not in vain thanks to this funny B99 installment, set around his funeral. The show is always at its best in precinct-against-the-world episodes with lots of opportunity for mayhem, and this episode delivered, as Jake and Amy's budding relationship was pretty much immediately tested by the Vulture, who had barely rearranged Holt's office to accommodate his protein shakes, kettlebells, and dog pelt before turning his energies to mucking up the fledgling romance.
While I would have certainly enjoyed an episode of watching the Vulture and Peralta attempt to bond in a whirlwind of nip-slips and puka shells, having him catch on to Peralta and Santiago's bro-down scheme early on proved to be much more entertaining. His threat to both the relationship and to Peralta's status as a detective made for some compelling stakes, as the pair tried to find a higher-up to intervene in his power play. I especially like that Jake and Amy tried to fight back instead of going through yet another round of breakup-makeup; I'm crossing my fingers that the show spends at least a few more episodes strengthening their bond before it gets to the inevitable interpersonal conflict. Andy Samberg and Melissa Fumero work better when they're joining forces instead of working at cross-purposes, losing the occasional bratty brother-sister vibe in favor of a richer, looser chemistry. (My favorite moment: the couple's attempt to mourn their way into the front pews at Dozerman's service. "We are both so bummed that he's dead." "Suuuuuper bummed.")
The one off-note in the Vulture plot was that Holt was able to save the day with a mere PR mention: It's already been established that the Vulture is a total media whore, but his willingness to fold after having completely written Holt off just the day prior seemed a little forced. Still, if you didn't "Aww" your way through Holt's 11th-hour save (and his tacit approval of Jake and Amy as a couple), there is probably a denim pants store where your heart should be. We all know by now that Holt's secretly a big softie, but I'm continually impressed by Andre Braugher's mastery at making him stern enough that his underbelly always ends up appearing hard-earned.
Holt is at his funniest when the chips are down (remember that awesome, quasi-Shakespearean monologue he delivered in "The Mole," when Wuntch had him cornered?), and this episode was no exception — from letting Gina be in charge of the car stereo to heedlessly chugging Beaujolais from a Sauternes glass, mopey Holt is always a good time. Things got even better when he was joined by Terry, whose stress level is way up and whose alcohol tolerance is way down, thanks to the slings and arrows of parenting and the discontinuation of his favorite mango yogurt. In anything approaching a just universe, it wouldn't be so unusual to watch two black male friends just hanging out, bitching about their problems, and bonding at a bar, but because it's a pairing that's so underrepresented, Terry and Holt's friendship always feels really fresh and engaging. Terry Crews, whose face should basically be printed in the dictionary under the word game, once again played insanely well off of Braugher's gloominess, and he had some great physical comedy in this episode as well, from hooting with his shirt off to drunkenly toasting the aforementioned yogurt. ("Don't boo me! I lost something important too, shoot!")
With so much going on in the A- and B-plots, the C-plot about Boyle's attempt to go all the way with his ongoing funeral hookup definitely suffered from being cut for time. (Much as I love Jon Daly, I would have axed all the tired bagpipe business instead — any comedic mojo surrounding the concept "bagpipes sound terrible" dissipated long ago.) I was interested to see how Archie Panjabi, fresh off The Good Wife, would fare in a comedic setting, but her role was surprisingly thin for an Emmy-winning guest-star; she only clocked two short scenes, one of which barely even showed her face. I'm definitely all for Boyle getting a new romantic plot, considering he's been empty-handed in that department since he and Gina quit screwing around in the first third of season two, but the horror of making out with a gluten-free vegan seems like kind of a weak launchpad into Boyle's return to love and to going, well, Full Boyle. Here's hoping that he'll have a more interesting love interest as we get deeper into the season (or that if Panjabi sticks around, we'll actually be able to see what she can do).
Other notes:
Peralta is on the verge of throwing stones in a glass house when it comes to judging the Vulture for having douchey taste, but he certainly knows the right buzzwords: premium tequila, Robin Thicke, "gots to have my puks."
Not to say that the Vulture isn't a douche, of course. Santiago: "He heard I speak Spanish, so he made me fire his housekeeper. She was Polish."
Nice callback to last season with Peralta calling Holt by his middle name — that would be Jacob, of course.
Promotional consideration for this episode furnished by Apple. Introducing the new iPhone: for when you need to secretly record your co-workers in order to undermine them.
Gina Linetti has the best self-talk of any character on television; one more season, and we'll probably need a book of her aphorisms to practice saying aloud in the mirror. "I'm a higher level of being, like Her from the movie Her."
Scully's butt may have once again been the downfall of the precinct, but his wife is actually leaving him? Dawwww. At least he still has Hitchcock to comfort him.