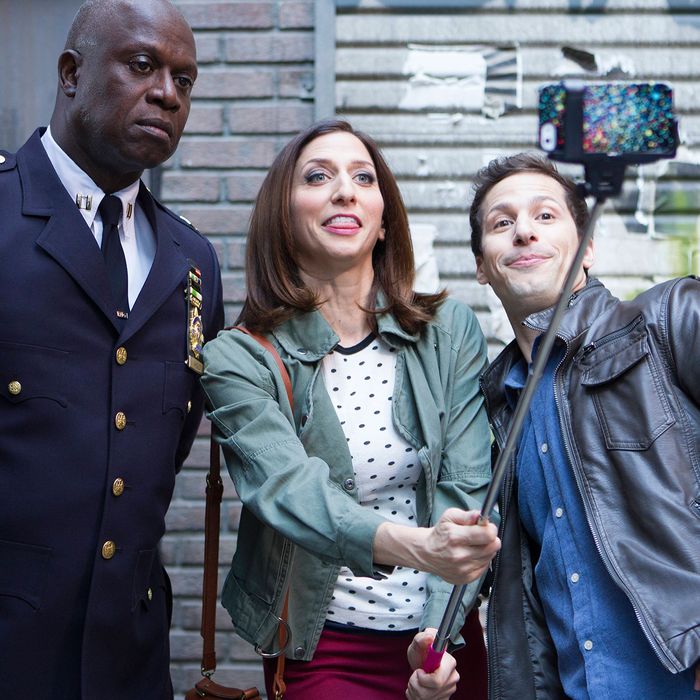 Photo: John P. Fleenor/Fox
Brooklyn Nine-Nine is having one hell of a third season so far, and this week's installment, in addition to having lots going on in the plot department, might be one of its funniest ever. With the Vulture still running the show at the precinct and Wuntch turning the screws on Holt over in the PR department, both Holt and Jake are under fire: The Vulture is trying to win a bet by taking on as few felony cases as possible ("Only misdemeanors, wieners"), while Wuntch, a.k.a. the "talking raisin," has assigned Holt to the doofy task of coming up with another name for "task force" (much to Gina's chagrin, as "Task Force sounds like some sort of body spray for hot dudes").
Thankfully, the return of a tea-party-loving serial killer who's been off the grid for five years gives Holt and Peralta the chance to form their own "do group" to crack the case — with the help of Gina, who catches their secret chat session on one of her regular trips to test out the men's room's amazing acoustics. They even get to work out some of that past aggression by fake-fighting each other in a tea shop ("WESTERN MEDICINE RULES!") while Gina hacks into the store's customer files. They get an initial setback when they bust in on the wrong perp and get disciplined with suspensions, but being the amazing detective slash geniuses they are, they eventually find the guy: a dog torturer in a creepy mannequin factory, no less.
Meanwhile, since they've been barred from solving cases, the Vulture commissions Rosa and Amy to plan his birthday party, in a spot-on knock on how women in offices are often expected to handle that crap. (Good on Rosa for straight-up calling him out on it: "Did you choose us because we're women?" The Vulture: "Women love planning parties. It's in the Bible.") Of course, this puts the two at odds: Rosa is all for immediately ruining the party, while Amy isn't exactly comfortable with contravening authority. The plotline could have used a little more time (it went to a good cause in supporting the Peralta-Holt storyline, though), but it did have the satisfying ending with their discovery that the Vulture is in a band, and hiring him to badly play his own bash and poorly tear away his own tearaway pants. Plus, Amy got the ultimate compliment from Rosa: "Next time I wanna hurt someone, I'm coming straight to you." "Aww, that's the nicest thing you've ever said to me!"
Terry and Boyle get an even more shrunken plot — well, shrunken for everyone except Terry, that is, who expands his waistline significantly via an addiction to Boyle's beloved cacao nibs. Even though the episode takes place over the span of a month, ultra-ripped Terry getting that fat that quickly pushes credulity — and I assume he'll be back out of his fat suit by next week's Halloween episode, even though this one ends in mid-October. (One thing I would have loved to at least hear mentioned in passing: Are Boyle and Genevieve a couple now that he's busted her out of prison?) Nonetheless, it's nice to see Boyle doing his ultra-supportive thing for a good cause and helping out the stressed-out sergeant, who's about to become a dad for the third time.
The good news: Terry's stress is about to significantly decrease, as Jake uses his leverage from closing the Oolong Slayer case to go over Wuntch's head and get Holt back into the captain's chair at the Nine-Nine. (Sacrificing the credit on a serial-killer arrest, no doubt one of his biggest career goals, to get Holt back is definitely aww-worthy.)
While I definitely agree that Holt belongs back at the precinct in the long term, I have to admit a little disappointment that the show chose to recall him so soon (and that it left the horrible Vulture untouched in the process, though I guess that does leave him open to returning to cause more mayhem down the line). Forcing Holt to be away from the precinct made for great conflict, Dean Winters turned in some fantastic work despite only getting a three-episode arc, and I think more could have been done with the PR department after last week's interesting tease of discussing real police-brutality issues. I love Holt, and B99 definitely is not B99 without him in the mix, but I'm worried that moving back to the status quo so soon might cause it to lose some of the plot momentum it's been building so well. In the meantime, though, this episode was definitely B99 at its best, as the following extra-long quote section will attest.
Other notes:
Gina, queen of great lines, got so, so many in this episode. "Good morning!" "For whom?" "For you'm." Also, her re-entrance at the office with a confetti cannon was amazing. "Or was I never really gone?"
Also, nice to know she's still enrolled in school and still enthralling psychology students. "I'm taking an abnormal psych class, and everyone in it is OBSESSED with me."
Jake, on Amy helping him through his suspension: "She gave me this sticker this morning just for waking up." "Eww, it's like you're dating your teacher." "Yeah, it's so hot."
Blink and you'll miss her, but that was Janie Haddad Tompkins (comedian and wife of Paul F.) interrupting Jake's big reveal in the diner by requesting her missing rye toast.
Terry loves responsible agricultural practices.
Holt, whose references to wine have roughly quintupled this season, keeps a globe bar stocked with vintage port. Jake, gasping: "So that's what globes are for!"
"Dope alley!" "I think this is where Batman's parents got killed."
Jake, trying to downplay the importance of his case to the Vulture: "Some old lady has a missing … torso … that we can't find."