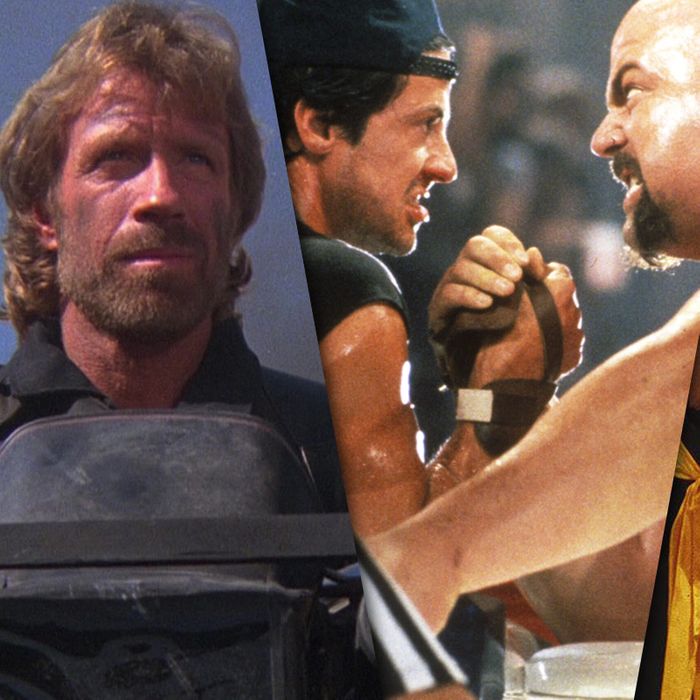 Delta Force, Over the Top, Bloodsport—classics, all
Photo: Cannon Films
For fans of trashy, low-budget action films, Cannon Films defined the 1980s. The company was revitalized, after a decade-long rocky start, by director Menahem Golan and producer Yoram Globus, Israeli cousins now seen by many as the dollar-store precursor to the Weinstein brothers. As tasteless as they were unscrupulous, Golan and Globus are responsible for a flood of Charles Bronson, Chuck Norris, and Jean-Claude Van Damme films, not to mention cheapy ninja-sploitation films, eccentric art-house films (including Jean-Luc Godard's King Lear and John Cassavetes's Love Streams), and, uh, Lou Ferrigno as Hercules. This week, Warner Brothers collected a ten-film DVD/Blu-Ray box set to coincide with and bolster the release of Electric Boogaloo: The Wild, Untold Story of Cannon Films, director Mark Hartley's funny, informative documentary. In the spirit of Hartley's inclusive doc, we present a list of the ten most Cannon-y moments included in the box set.
10. Sylvester Stallone Glistens During an Arm-Wrestling Competition in Over the Top
Directed by Menahem Golan, competitive arm-wrestling (!!!) action-adventure Over the Top was one of a handful of Cannon's failed attempts at crossing over into the mainstream. Star Sylvester Stallone was only secured thanks to an investment of $12 million, an astronomical sum by Cannon standards. The film is essentially a family-friendly dick-flick about a long-haul truck driver (Stallone) who bonds with his prissy, estranged son by showing him how to arm-wrestle, and using said arm-wrestling skills to win a professional competition. In this scene, Golan and Globus attempt to jump-start a competitive arm-wrestling craze by dousing Stallone in oil and making him arm-wrestle for money. It's endearingly macho, dumb, and ridiculous — essentially Cannon's three tenets.

9. Frank Langella Conquers Castle Greyskull While Wearing a Cheap Halloween Costume in Masters of the Universe
Masters of the Universe, from 1987, was another atypically high-budget production for Cannon that was emblematic of its failed attempts to break into the mainstream. This was around the same time as the abysmal, Cannon-produced Superman IV: The Quest for Peace, not to mention Cannon's never-realized Spider-Man movie (American Ninja star Michael Dudikoff was, at one point, set to star, and Texas Chainsaw Massacre director Tobe Hooper was also briefly attached to the nightmare project). Of all these failed comic book/action-figure-friendly properties, Masters of the Universe is the only one that fans still fondly remember. In this scene, Frank Langella acts his heart out while dressed in a very silly-looking Skeletor costume (Langella agreed to do the film because his son loved He-Man).
8. Virtually Every Actress Interview in Electric Boogaloo: The Wild, Untold Story of Cannon Films
The women of Cannon weren't all treated poorly, but a recurring theme in Hartley's documentary is how unwelcome many actresses felt while making these films, and not just during the exploitation and soft-core flicks like Lady Chatterley's Lover and Mata Hari. Even Lucinda Dickey, star of possessed-aerobics-instructor-turned-ninja picture Ninja III: The Domination, complains about how chilly Breakin'$2 2: Electric Boogaloo co-stars Adolfo "Shabba-Doo" Quinones and Michael "Boogaloo Shrimp" Chambers were to her. And Bo Derek recalls that Golan and Globus stole photos of her from her suitcase and used them to advertise Bolero, Cannon's dopey answer to Derek classic 10. Golan and Globus were, by contrast, generally hands-off with their directors, though that sometimes led to harsh working conditions for actresses. The worst and most telling anecdote: One actress complains that The Wicked Lady director Michael Winner practically slashed her outfit off with a pair of scissors for a scene where she's whipped by Faye Dunaway. Winner is described by Alex Winter as being "pathological, brutal, sadistic." Or, in one interviewee's words, the "perfect Cannon director!"
7. The Bevy of Priceless Menahem Golan Impressions in Electric Boogaloo
While Golan and Globus weren't the founders of Cannon, they are the names that people most associate with the company. Proof of such can be found in the sheer number of people who unkindly imitate Menahem Golan, Cannon's flamboyant public face, in Electric Boogaloo. Interview subjects, who often go long stretches of Hartley's doc without identification, tease Golan for his hubris: "'I'm better than Ken Russell,'" paraphrases one interviewee when discussing the Golan-helmed flick The Apple, a kitschy, Tommy-esque musical that features an equine-looking Satan and sky-Cadillac-cruising God. Crucially, Golan is also likened to "Jabba the Hutt on meth." But the best/worst impression of Golan in Hartley's film has to be the one where the unnamed imitator (as Golan) asks his personal assistant if she would have sex with Clyde, the orangutan from Every Which Way But Loose.
6. The Destruction of a Real Suburb in Invasion U.S.A.
Golan and Globus's bottom-line business mentality wasn't unique, but it did define the company during their regime. One talking head characterizes the duo by saying ,"'We don't care about working conditions or the finished product.'" Case in point: suburban Florida homes were actually blown up during the making of Chuck Norris vehicle Invasion U.S.A. since the actual neighborhood was about to be razed in order to expand a nearby airport's runways. Likewise, the crew was allowed to destroy certain aspects of Miami's Dadeland Mall during shooting, as you can see during this mall-set scene.
5. Electric Boogaloo's Brief Mention of Cannon's Artier Films
One of the more refreshing aspects of Electric Boogaloo is the way that Hartley and his subjects don't over-stress the importance of Cannon's arty outliers like King Lear and Love Streams. These films weren't typical of Cannon, though they have often been used by snobby revisionists as examples of singular films that justify Cannon's existence. Still, while Godard fans (including this writer) may feel uncomfortable watching King Lear star Molly Ringwald talk about how lost she was on Godard's set (he's not exactly known for being approachable), it is important to note that not even the people involved with the making of King Lear know how it landed at Cannon. In the scene below, Ringwald does what she does, while Godard expounds on the futility of artistic expression through reactive, easily-corrupted, and most-likely moribund language.
4. Bloodsport's Insanely Melodramatic Final Fight
Electric Boogaloo doesn't really go into the Jean-Claude Van Damme era of Cannon films. But the best JCVD movies were the ones that synthesized his natural charisma and tendency for being hammy. In Bloodsport's concluding fight, Van Damme's Frank Dux avenges the death of a friend while making faces and fists as he rains blows on his opponent in slow-motion.
3. Pretty Much All of The Delta Force
Chuck Norris? Check. Reaganite jingoism? Check. Gratuitous gun violence? Check. Chest-beating, macho, manly-man supporting cast, including Lee Marvin, Robert Forster, and George Kennedy? Check. Irrelevant, air-headed female supporting cast? Checkarooni.
2. Sylvester Stallone Teaching His Son to Drive a Semi in Over the Top
Anybody who has seen the Cannon-produced live-action Puss in Boots — featuring Christopher Walken as the voice of Puss — can tell you why Cannon wasn't synonymous with family entertainment. In fact, if there's any love in Cannon films, it's typically of the "tough" variety. So it's not surprising that one of the most miscalculated scenes in Over the Top is the one where Sylvester Stallone's working-class hero teaches his sheltered son to respect him by forcing him to drive his semi-truck. The result is grade-A meathead nonsense. In this post-bonding scene, Stallone and his kid bliss out to, uh, Kenny Loggins.
1. Every Time Chuck Norris Opens His Mouth in The Hitman
Not for the faint of heart!