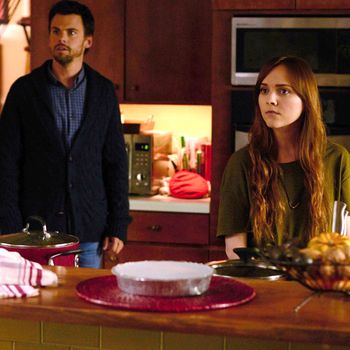 Streaming outlets were supposed to provide us with shows that couldn't fit in the traditional TV model. Weirder, naughtier, bolder, maybe. But what's happened instead is that places like Netflix and Hulu and Amazon and wherever else are making traditional television shows. Transparent is a lovely dream, but it would be at home on HBO. Orange Is the New Black is brash and brilliant and wouldn't be out of place on Showtime. Narcos could be on AMC. Difficult People could be on FXX along with You're the Worst. The Mindy Project was on Fox; Community was on NBC. This streaming revolution, or whatever it was supposed to be, has brought us more television, but it hasn't brought us hugely different television. Casual, which premieres on Hulu tomorrow, is more TV. It's occasionally good TV. But it is the same TV we've seen before. And by the time you're watching Hulu Originals, you're probably a pretty big TV person, which is why ordinariness seems like a particularly grievous sin for a show like this.
Casual, from creator Zander Lehmann and executive producer Jason Reitman (who directed the first two episodes), centers on an adult brother (man-child!) and sister (mom divorcée!) living together again and figuring out the wacky ways of love. Even before Francis Conroy shows up as their mother, the show frequently feels like a superficial Six Feet Under tribute band. Can you LARP Transparent?
Tommy Dewey (The Mindy Project) stars as Alex, who created a dating app à la Tinder. Would you believe that he himself is a player? Well, he is! He is 19 other TV dudes and their just-so stubble, their aggressive womanizing, and their sudden weakness for the one Cool Girl™ who's as blasé about sex as he is. When Dewey is giving the full-charm press, you get Alex, and why people might enjoy him, and how he seems, to his sister and niece, like a good person to live with. But when Dewey holds back, Alex loses his depth and becomes yet another exhausting bro.
Michaela Watkins as Valerie is more consistent, and more magnetic. Unfortunately, the character isn't more original. You can see the same rigmarole on Girlfriend's Guide to Divorce and Younger, from the conversations about dating younger guys — video … games?? — to the struggles of parenting a teen daughter. Oh, and Brazilian waxes! The Sex and the City episode about waxing one's genitals aired 15 years ago and was hardly the first acknowledgement that this is one way to tend one's garden. Come on, television. No more of this "woman in her early 40s has no idea what waxing is."
Rounding out the central cast is Valerie's teen daughter Laura (Tara Lynne Barr), a pretty straight ripoff of Claire Fisher, from the red hair to the grimy boyfriend to the interest in photography to the generalized but mostly gentle contempt for those around her. In addition to seeming like Claire, Laura also recalls Hattie from Parenthood ("My mom and I both have a crush on my teacher"), Lux from Life Unexpected, maybe a little Dana from Homeland. You know, surly. In a very TV-standard way. Sexually precious, obviously too old for her years, wears Chuck Taylors, etc.
Over its first season, Casual breaks no new ground. Many of its scenes could swap in to any number of indie movies about bougie ennui, and many of its conversations have been had better elsewhere. That said, even as I knew what was coming — has any TV scene set in an art gallery ever gone well? — I still happily watched all ten episodes. Casual is often smart, and it's well paced, and it addresses its to-do list head-on. Michaela Watkins is the best. But there's just not quite enough happening, either in depth or in breadth or in originality or in hilarity or tragedy or musicality or in the dazzle department. Take a cue from Six Feet Under and, yes, dig a little deeper, Casual.