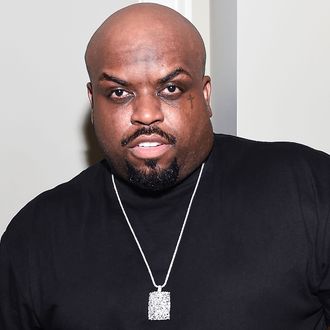 CeeLo.
Photo: Paras Griffin/2014 Getty Images
Claiming he has a new lease on life, CeeLo Green is addressing his recent felony drug case and fall from grace with a more polished approach. The singer told the AP earlier this week that he has had time to reflect on what happened and wants to repair his career — mentioning, namely, that he'd like to return to The Voice. "I've talked very possibly about doing The Voice again. … I just kind of put that out there, wishful thinking, kind of willing it," Green said. Controversy consumed the former judge after a 2012 dinner, when he faced charges for giving a woman ecstasy and later penned misguided rape-related tweets. Because of the fallout, Green lost his Voice spot, as well as a TBS show, and a lot of respect.
"I'm so grateful that you yourself, and everyone who just may happen to witness this particular interview, have my deepest, sincerest apologies for any inconvenience, any ignorance, any ill will, anything," he also told the AP, stressing that his first new goal is to find ways to re-entrench himself within the music community. He cited his next album, Heart Blanche (out next month), as a way he hopes to do so. Green has reportedly finished his community service sentence, but is still on probation.