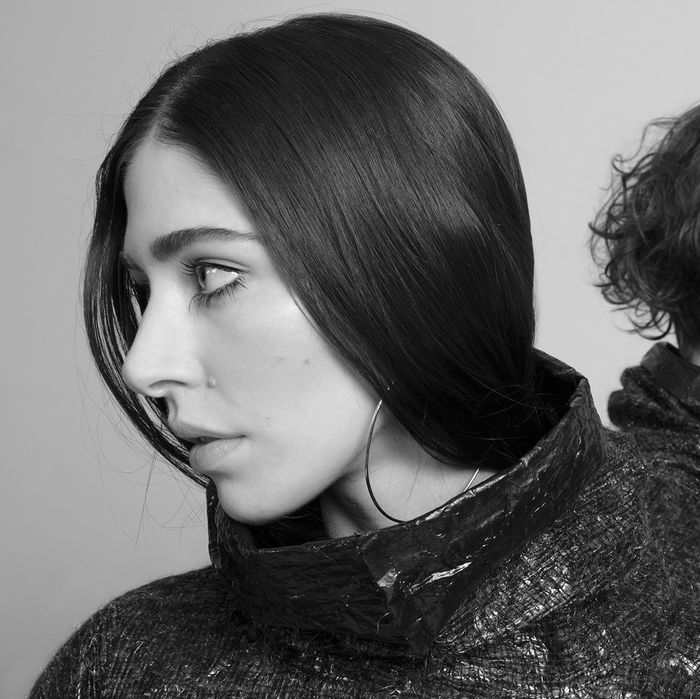 On the corner of Flushing and Tompkins avenues in South Williamsburg, Brooklyn, near Marcy Projects, sits the old Pfizer building, an imposing 660,000-square-foot space where the pharmaceutical giant held its headquarters until 2008. Today the impressive, eight-story structure, still filled with lab equipment, animal cages, large locker rooms, and towering stainless-steel mixers, is home to various start-ups, food purveyors, and production companies. Nestled among them in what was once Pfizer's colleague resource center, is the recording studio built three years ago by Caroline Polachek and Patrick Wimberly of Chairlift, and in which the pop duo recorded their forthcoming third album, Moth.
Written and produced in this cozy, cocoonlike incubator surrounded by ghosts left behind by the same company that invented Viagra, Moth is the most distilled, coherent version of Chairlift yet, offering a leaner, more hi-fi sound that's squarely influenced by hip-hop. The song "Ch-Ching," premiering on Vulture today, has a cinematic spaghetti Western whistle and giant, club-ready bass; the accompanying video, filmed in various locations around New York City, features Polachek nailing dancehall moves by choreographer Corie Genius.
The song was inspired by the time back in 2013 when Polachek and Wimberly were asked to write music for Beyoncé's last album, resulting in the sexy bedroom classic "No Angel." It's about that "total New York moment, feeling like you're unqualified to be doing something but you're just going to take it and run with it," explains Polachek. "It happens to everyone when you move here, at least hopefully it happens to everyone. You end up getting handed some sort of crazy opportunity that you feel like maybe you're not the right person for the job, but you're going to fucking go for it, and if you're lucky, it works." Everything seems to be working just fine for Polachek and Wimberly, who both have successful solo projects outside of Chairlift, Wimberly as a producer, and Polachek as the imaginative Ramona Lisa.

Moth is due out in January. Watch the video for "Ch-Ching" below.