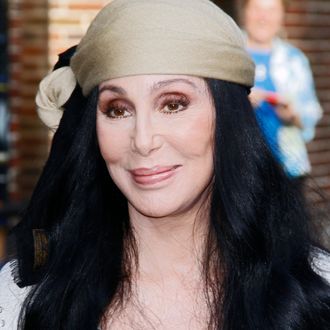 Broadway baby.
Photo: Donna Ward/Getty Images
A musical based on pop icon and Twitter maven Cher is coming your way, Playbill reports. Rick Elice, Tony-nominated co-librettist of Jersey Boys, is writing the book for a musical based on Cher, which will presumably include her own music just as Jersey Boys did with Frankie Valli and the Four Seasons. But do we really need someone to write a book to Cher's musical when she's proven her wordsmith abilities on Twitter? Mix in her tweets as the book and her classic hits and you've got yourself a Tony winner.
PROLOGUE

A haunting flash-forward, sung by a Greek-like chorus of Cher's career to come.
ACT ONE
Cher, lonely, searches for love. She finds Sonny.
Love turns tumultuous.
Ultimately, it ends in divorce.
ACT TWO
She's embarking on her solo journey.
She finds rivalries.
She finds activism.
But, and maybe this is the most important part, she'd end her story on a positive note.