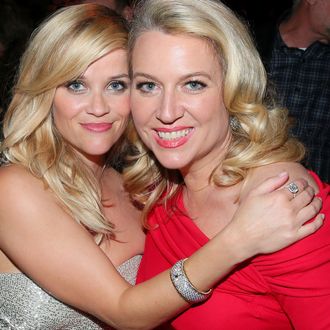 Witherspoon and Strayed.
Photo: Mark Davis/2015 Getty Images
Cheryl Strayed wants you to know she's getting even wilder: She, Reese Witherspoon, and Laura Dern — three of the major players behind the big-screen version of Wild — will reunite for a potential TV show based on more of the author's writings, according to reports. The trifecta, along with Strayed's husband, is developing a series for HBO based on Tiny Beautiful Things, the writer's collection of "Dear Sugar" advice columns. "It will be a drama with a lot of humor in it … We're really excited about it," Strayed told The Oregonian, noting that she and her husband, Brian Lindstrom, went to L.A., with Witherspoon and Dern on either side of them, to pitch, and that HBO execs "bought the idea in the room."
That idea reportedly has Dern playing the advice columnist in question and might include something for Witherspoon, too; both actresses are also set to join Strayed, Lindstrom, Bruna Papandrea, and Jayme Lemons as EPs. HBO confirmed the news, saying it has put the project into development (full-series green light technically still pending) and releasing the following log line: "This one hour drama will explore love, loss, lust and life through the eyes of a Portland family who live by the mantra that the truth will never kill you." Strayed and Lindstrom will write the TV adaptation, according to Deadline; other logistical details are unavailable at the moment. In the meantime, however, you can prepare by scoping out some of our favorite "Dear Sugar" columns.