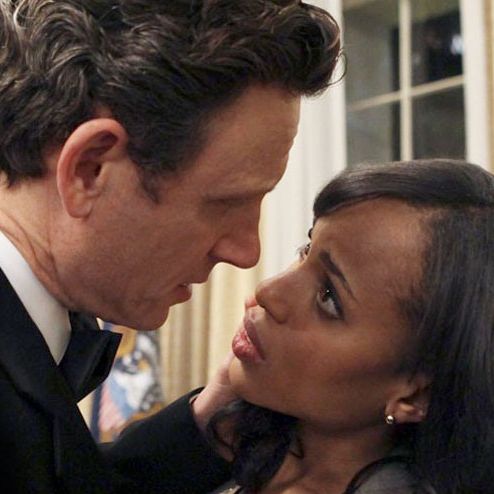 Every now and then I see an article arguing that, in this golden age of serialized prestige dramas, TV has become the new novel. As an avid reader of contemporary fiction, I can state definitively that novels are still the new novels, and as relevant to popular culture today as they ever were. When I started my blog Slaughterhouse 90210 — which pairs TV and film stills with lines from classic literature — in 2009, it was meant to be a mash-up of "high" and "low" culture, a way to delight in the juxtaposition of a scene from a trashy reality show with a quote from some canonical piece of fiction. But that dichotomy didn't hold up. The authors I tend to read in my day-to-day life are not revered dead legends — they're very much alive on the small screen. That's all to say, fans of compelling narrative and character development can find enormous pleasure in both art forms. Ahead, I explain some of my favorite pairings from Slaughterhouse 90210, which is out in book version today, and, hopefully, illuminate why it's never been a better time to be a lover of books and TV.
1 Jane the Virgin / Geoff Dyer
Geoff Dyer's quote about the angsty nature of fandom comes from his book about loving books (the works of D.H. Lawrence, in particular), so naturally, I paired it with a TV show about loving TV shows. So meta! This screenshot from Jane the Virgin is great because it focuses only on the expressions on the women's faces rather than what they're watching on the TV that's directly in front of them. Here, Jane, her mother, and her abuela squeeze onto the couch to watch their telenovela together, enjoying the collective stress of caring so deeply about their favorite show that the characters on it almost feel like family.
2. Mad Men / Zadie Smith
Mad Men has provided much of my favorite source material for Slaughterhouse 90210. The series has been criticized for being too neat and heavy-handed in its themes, too "captionable." I'd argue that this assessment overlooks much of the show's nuance and subtlety, but of course it also suits the purposes of my blog very well. This line from Zadie Smith's 2000 debut novel describes a main character's first impression of the woman he'd go on to marry, and it was at the top of my Google Doc database of favorite book quotes (the doc is now 300 pages). It beautifully explains Joan Holloway's allure, even if this juxtaposition underscores another criticism of Mad Men that feels more on point — its failure to depict much more than a predominantly white experience.
3. Breaking Bad / Albert Camus
"Ozymandias" is my favorite episode of Breaking Bad, and maybe all of television ever, and I was thrilled and devastated when it was over. I turned off the TV after it had aired and searched for the word betray in the quotes section on Goodreads to find the right line to describe Walter White's treachery (poor Flynn!). Up came this Camus quote, which could function as a one-sentence recap of the episode, or even the whole series.
4. Lost / Anthony Doerr
About Grace, Pulitzer Prize–winner Anthony Doerr's first novel, was originally published in September of 2004, the very same month when the first episode of mind- and time-bending ABC series Lost was aired. My jaw dropped when I went back and read the novel after I'd work on the readers' guide for Doerr's 2010 story collection, The Memory Wall. Anthony Doerr, how did you know? Imagine all of the wild speculation — all of the fan theories, all of the mega-close reads — that would have been entirely unnecessary had we collectively just read this one quote.
5. Broad City / Hilary Mantel
Before she took a deep dive in historical fiction with her Wolf Hall trilogy, Hilary Mantel wrote a slim, beautiful novel about female friendship. I had this seminal Broad City screencap sitting on my desktop for ages, and I was so glad to come across this quote and finally find such an apt summation of Abbi and Ilana's life philosophies. So in the parlance of the show, I guess I should just say, yas queen, Hilary Mantel. Yas queen.
6. Jersey Shore / W. Somerset Maugham
Here's a classic high/low pairing of the kind that characterized my blog in the early days. Somerset Maugham's 1919 novel, loosely based on the life of the artist Gauguin, is pretty much as far away you could get, stylistically, from the cesspool of hair gel and fist-pumps and drunken hookups and fights that was the MTV reality show Jersey Shore. And yet. Scene-stealer Snooki Polizzi really did have some star quality, and her silliest antics were endearing enough to make me feel a little less greasy for having watched the show.
7. Empire / Margaret Atwood
I find myself going back to Margaret Atwood again and again, and not just on Twitter. Her works of speculative fiction haunt me, but even her more traditional, realistic novels contain so much pointed insight into power dynamics, especially when women are involved. Empire's Cookie Lyon could be an Atwood heroine, a spark-plug of a woman who adds weight and dimension to a show that can often feel as shiny and fun and frivolous as a pop song.
8. My So-Called Life / Elena Ferrante
I am a happy sufferer of Ferrante Fever, a term for the fandom inspired by the anonymous Italian author and her four-volume Neapolitan Novels, among other gems. Whenever I read, I constantly mine the text for quotes to include on Slaughterhouse 90210 — my blog is hardwired into my experience as a reader now — but finding usable quotes in Ferrante is challenging because she includes so many Italian names, so many specific details of the quotidian lives of her main characters. But then I came across a chestnut in Book Two that beautifully explains the flimsiness of the central romantic relationship of the series, and all the better if this quote from a 1,600-page epic can be consummately mapped onto one perfect season of TV from the '90s.
9. Louie / Joyce Carol Oates
I love when this happens. Here's a case of a metaphorical idea from a book (Joyce Carol Oates's 2001 short-story collection) that gets literally brought to life on television. Parker Posey's season-three guest run on Louie was nearly as satisfying (at least at first) as smoked fish from legendary New York deli/café Russ & Daughters.
10. Scandal / Jane Austen
You can't scroll through a page of Tumblr without coming across a Jane Austen sentence — whether that's because she's so eminently quotable or because everyone had to read her in high school remains to be seen. But this particular Austenism works because it's such a judgmental pearl of wisdom, which is exactly what a show like Scandal calls for (unless there's a literary quote out there that I missed that simply says, "Stop fucking the president"). What is Fitz if not impulsive and self-indulgent like Elizabeth Bennett's bratty kid sister? And maybe that's why we love Scandal — it builds a world in which even the leader of the free world can have as much romantic drama as a teenage girl.