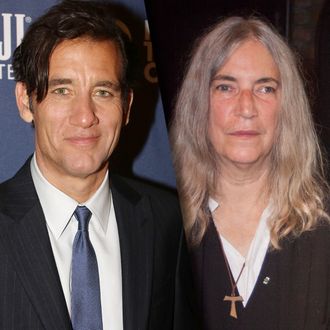 Clive Owen, Patti Smith's muse.
Photo: Getty Images
During a conversation at the Hearst building, Patti Smith said that in addition to her two nonfiction works, Just Kids and M Train, she was also working on a detective novel. "I have my detective. I've been working on it for a few years at my own pace," Smith said. And while a publishing agreement prevented her from divulging further details, she did say that she had cast the British actor Clive Owen in mind as the detective.
Fortunately for us, Owen is making his Broadway debut in Old Times, so Vulture relayed the news last night that the rocker was using him as her muse for her fictional private-eye. "Get out," Owen said. "I'm very excited to hear that. I'm going to put on record she better send it to me when she's written it. She better! I want that to go public." Did you hear that, Ms. Smith? You know, have your people call his people.