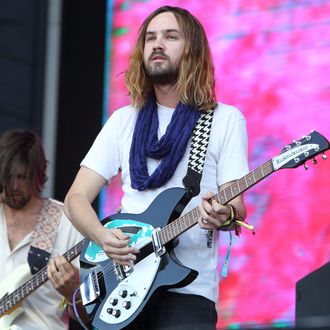 Kevin Parker from Tame Impala.
Photo: Burak Cingi/Getty Images
The Governors Ball Music Festival, an independent festival that has played host to acts like Kanye West, Drake, the Black Keys, and Tame Impala, is going to battle with AEG, the promoter behind Coachella. AEG has plans to launch the Panorama Music Festival, a three-day event, in June 2016 — just two weeks after Governors Ball. Right now, the plan is for the new festival to take place in Flushing Meadows Corona Park in Queens, the site of the 1964 New York World's Fair. (If you're under 60, it's the Men in Black park.)
Citing their inability to compete with AEG, the Governors Ball organizers have petitioned New York City mayor Bill de Blasio to block the Panorama Music Festival, stating in their petition:
"The timing of this proposed event is an aggressive, greedy attempt by AEG to push a small independent company of born and bred New Yorkers out of business and out of the market. We are writing you today to ask for your support and tell the Mayor's Office and the City of New York to reject this proposed event that would take place two weeks after Gov Ball. We are asking that this proposed event take place at another time of year because this would allow both events to succeed. Please help Gov Ball survive and continue to serve you — the fans, friends, and family — for many years to come!"
AEG has begun to book talent, but has yet to officially reserve a space. Is de Blasio's New York big enough for the both of them?