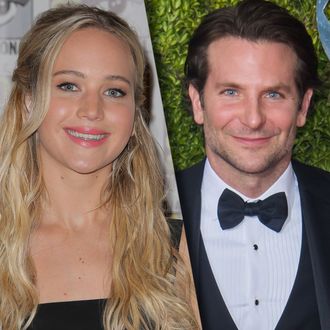 Photo: Mark Sagliocco/Chelsea Lauren/Getty Images/WireImage
About a year ago, the Sony leaks revealed that Jennifer Lawrence got paid less for American Hustle than her male co-stars (she and Amy Adams got 7 percent of backend compensation, compared to the 9 percent her male co-stars received), restarting a conversation about the actor-actress wage gap in Hollywood. This week, with her essay in Lenny, Lawrence opened up the floodgates, leading to seemingly every actor on a press tour being asked for their opinions on the matter.
One of those actors was her American Hustle and Silver Linings Playbook co-star Bradley Cooper, who is out promoting Burnt. (Lawrence and Cooper will appear together again later this year in Joy.) After commending Lawrence earlier in the week, Cooper took it a step further talking to Reuters. Wanting to help his female co-stars' negotiations, Cooper said he will team up with them before the film goes into production. In a way, Cooper would be trying to do what casts of major sitcoms like Friends and Modern Family have done: pooled negotiations so no one gets paid more or less. "I don't know where it's changing otherwise but that's something that I could do," he told Reuters.
Cooper's most interesting quote came at the end of the interview, when he said, "Usually you don't talk about the financial stuff, you have people. But you know what? It's time to start doing that." When he says "people," he's referring to agents and managers, who get 10 percent of their clients' money in exchange for, among things, making sure they don't get screwed.
So when Lawrence wrote, "I failed as a negotiator because I gave up early," a lot of that blame goes to the people she pays not to give up early. This is particularly noteworthy since Cooper and Lawrence are both represented by CAA, which means that it's likely their agents knew — or, at the least, should have known — what the other was getting paid for American Hustle. (Jeremy Renner is also CAA; Christian Bale and Amy Adams are WME). What's Cooper's suggesting, then, is to take some of the power out of the hands of "the people" who have, in theory, been hired to represent his best interests.
When the news initially came out that Lawrence was paid less, people pointed fingers at the people who were doing the paying, Sony, to which then-co-chair Amy Pascal responded, "I run a business. People want to work for less money, I'll pay them less money." Cooper's comments reflect that the wage gap is not a matter of simply demanding studios to pay women fairly; it's also a matter of who is doing the demanding. And that's just the start of it.