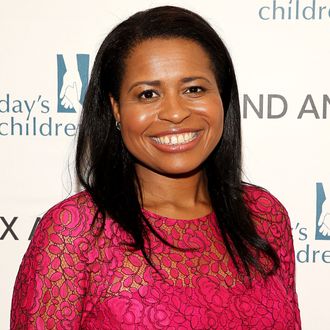 Courtney Kemp Agboh.
Photo: Paul Morigi/Getty Images
One of the biggest industry takeaways from the past TV season was just how big of an audience there is for shows led by minorities, sparked in large part by the meteoric rise of Empire. For Power showrunner Courtney Kemp Agboh, however, it's still a struggle to reach viewers outside of her show's core black audience. On Tuesday night's New York TV Festival panel, "Running the Show: A Big Picture Conversation on Creating for the Small Screen," led by Vulture's Margaret Lyons, Agboh said what scares her is running a successful show that reaches millions of viewers but is still ignored by those who assume they are not the audience for it:
I've been debating whether or not to say it, but the thing that actually frightens me about my show is that I wonder if it's ever going to reach the audience outside of its core demographic. I would like more people to see our show or to know about it. Last year we were the highest-rated show on Starz, and I still have people say, "What is it?" And the idea that there's only three premium-cable networks, and that we would be the highest-rated show on it and people would not have heard of it, it speaks to something that actually really troubles me and frightens me about how television is perceived, and how people select themselves out of it.

I was talking about the next show I wanted to do, and it was about sort of where I grew up, which is Connecticut, and [I had a reporter say to me], "Well I'll watch that one." [Audience groans.] She meant it as a compliment, and I just thought, Okay, there is still a long way to go here. We were having a debate this morning about what key art should look, and it really comes down to, can we get people to sample the show who don't know that the show is actually about lost love, who don't know the show is actually about right and wrong, good versus evil? Who just assume it's a show about what they think [it is] because they haven't actually tried. That scares me the most because I don't know how to solve that.