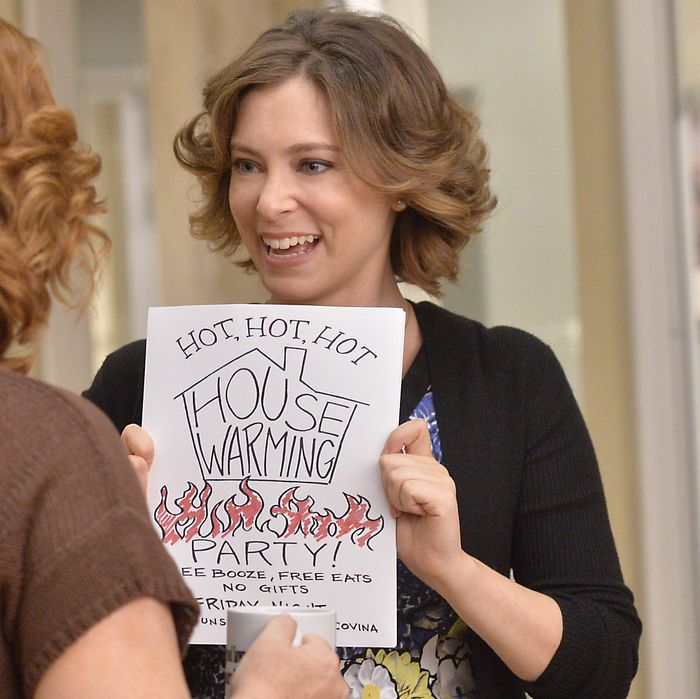 Rachel Bloom as Rebecca in Crazy Ex-Girlfriend.
Photo: Lisa Rose/CW
This fall there are 24 crime procedurals on network television. There are six superhero shows. Chicago Med, Chicago Fire, Chicago P.D. Grimm and Once Upon a Time. Modern Family and Life in Pieces. Black-ish, Fresh Off the Boat, The Goldbergs, The Middle. If you told me The Voice was on every day, I'd believe you. This season overwhelmingly added familiar-seeming shows to the network docket, and even when those shows are off to reasonably solid starts — take a bow, Quantico — there's a familiarity to them that's tolerable individually, but troublesome taken on the whole. Who needs Peak TV when you can just have Same TV?
It's not all dire. Shows like Empire and Jane the Virgin exist, too — shows that are burning a little brighter than everyone else, shows that have their own voice and style and drive. These oases are the point of being a TV fan: They're the kind of shows that make sense as one's favorite show. I don't know how you can watch CBS's Code Black and think, Oh, wow, I'm gonna fall in love — even though it's decent and competent and well-funded. Crazy Ex-Girlfriend is that glorious anomaly, a welcome surprise. There's a running gag in which our heroine Rebecca hears an "I'm in love" bar from South Pacific's "I'm in Love With a Wonderful Guy." I hear it, too.
Crazy Ex-Girlfriend is an hour-long musical comedy, with original songs and whimsical set pieces. Rachel Bloom, the show's star and creator, plays Rebecca, a successful but frustrated New York lawyer who bumps into her camp boyfriend from years and years ago and decides on a lark to pick up and move to West Covina, California — where said ex "just happens to live."
Crazy is a slur used against women, and the term crazy ex-girlfriend is part of a patriarchal system that claims men are "rational" and women are "emotional." Are some women worthy of the label crazy? Sure, if that's something that's really important to you. Plenty of men, too! But it's also lazily lobbed at women to discount behavior or experiences men want to ignore and minimize. Crazy Ex-Girlfriend is pointedly not called My Crazy Ex-Girlfriend, and Bloom says that makes all the difference, but it goes a little further than that: Because the show so lives in Rebecca's head, we're aware of her self-awareness and of how she perceives her own decisions. Yeah, moving across the country is "crazy." But is that crazier than being unhappy forever? From living the life her controlling mother wants her to live? Crazier than the beautification rituals women endure, as depicted in "The Sexy Getting Ready Song"?
What Bloom and executive producer Aline Brosh McKenna (who wrote the screenplay for The Devil Wears Prada, among other things) have made is a show that acknowledges the cultural baggage of crazy and also drawn a distinction between that and legitimate mental illness. (Which the show also acknowledges.) The series' cartoonishness, thanks in part to its musical numbers but also its general aesthetic and vibe, lets it play with some very dark ideas — "I told my dad I was having suicidal thoughts!" Rebecca casually mentions — without being a particularly dark show. It's funny and sharp and perceptive, with an emotional depth and magical attitude that reminds me of other outlier shows like Wonderfalls and Ugly Betty. There are threads of Felicity and Ally McBeal, too. The CW is dead on in pairing it with Jane the Virgin.
Crazy Ex-Girlfriend has a very difficult to-do list in terms of maintaining its tone while finding a little more character clarity than the pilot managed — plus the musical numbers. Rebecca's self-absorption is almost thrilling, but the show itself falls prey to it, so we don't quite get a clear read on the supporting characters in the first episode, though it's obvious that Paula (Donna Lynne Champlin), the paralegal at Rebecca's new firm, will be her main confidante, and Greg (Santino Fontana), a bartender, will be the main love interest, not Josh (Vincent Rodriguez III). I'm sold. The craziest thing about Crazy Ex-Girlfriend is how boldly itself it is when so many other shows are attempting to be each other.