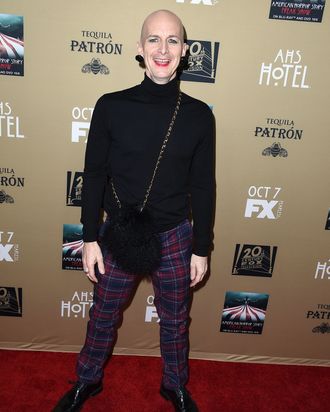 In character, sort of.
Photo: Steve Granitz/Getty Images
From playing a ghastly burn victim to a mute butler with a penchant for dolls to an enormous — cough —  con artist, Denis O'Hare has appeared in a number of guises since the first season of American Horror Story. For the upcoming fifth season, O'Hare returns as a cross-dressing employee at the Hotel Cortez's bar named Liz Taylor. "I have an amazing costumer, Lou Eyrich, and she puts me in amazing clothes," O'Hare told Vulture at Saturday's American Horror Story: Hotel red-carpet premiere. "We are honoring Liz Taylor so I'm wearing some stuff from Butterfield 8. I'm wearing some Cleopatra stuff. I'm wearing some stuff from the '70s and the '80s. I wear turbans. I don't think I'm a convincing, woman but I'm a convincing character. Who I am is of a piece."
Aside from a fabulous costume designer, O'Hare also took some cues from another fellow cross-dresser while preparing for the role — and it wasn't Lady Gaga. (Who could forget Jo Calderone?) "I met with Alaska (Thunderfuck) from RuPaul's Drag Race, who I love, and he was fantastic," O'Hare said. "He sat down with me and sort of just talked me through some stuff and it was really, really, really helpful. He is a great guy and she is an amazing performer."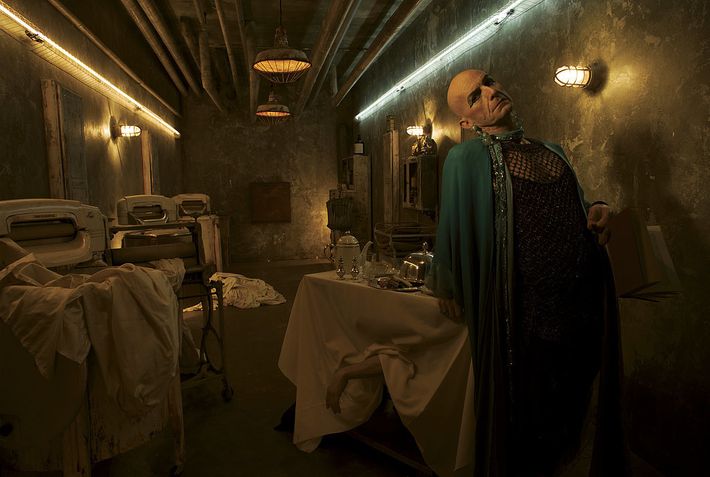 And while fans may expect O'Hare's character to join in on the hotel's bloody kinkfest that goes on behind closed doors, Liz keeps it classy in her room. "Oddly enough I have a very romantic love scene in the middle of the season," O'Hare laughed. "And it's a beautiful love scene. Not at all kinky. And it's a sexy bed. It's a really beautiful scene so I'm, of all people, not in that projector." Denis O'Hare, serving Liz Taylor realness.