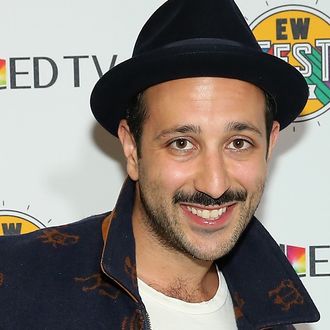 Desmin Borges.
Photo: Monica Schipper/2015 Getty Images
This week You're the Worst, one of our favorite TV rom-coms, is airing a sequel to season one's most popular episode, "Sunday Funday." Dubbed "Spooky Sunday Funday," this installment's title is obviously feeling the Halloween spirit. For those unfamiliar with the show, Worst follows Jimmy (Chris Geere) and Gretchen (Aya Cash), who share as much love for each other as they do cynicism and disgust for the rest of the world. They're now living together, along with their lovable roommate Edgar, a PTSD-stricken Iraq War veteran. Desmin Borges, on hand at Entertainment Weekly's first-ever EW Fest, talked about "Spooky Sunday Funday" and how he prepared to play a character with PTSD, as well as where he wants to see his character go in future seasons (especially sexually).
To understand Edgar's affliction, Borges first tried a conventional route: doing "as much background research on the internet … as you can." But he said there was one visitor who really helped him understand understand what Edgar is going through:
I got a large bulk of my information right before we started shooting season one, Stephen and I invited a vet to come talk to us in the writers' room and … he went through his whole story, his first tour and Iraq, his second tour in Iraq, coming back and sort of dealing with PTSD, you know the triumphs and the pitfalls of you know, drinking every night, trying to medicate that way. And then he started going to therapy and thing helped, and then one day he was somewhere and he thought he heard a gunshot and he flipped the [fuck] out and just beat the shit out of somebody and realized he wasn't doing that well, and then he got a service dog, and he wanted a pit bull because he wanted something strong you know and they gave him a Yorkie and he was mad about that for like a few months and then he realized, [the Yorkie], he loves that thing now.

One of the things he said to me was at the height of it he would go out and find people to beat the hurt out of him. He didn't want to fight anyone, he just didn't know how to get rid of what was happening in his head, the dreams that he was having at night and that memory stuck with me, and I would hope that's something we're going to get to see Edgar go through, but to have that as a base to know that that's kind of like the bottom, you know it kind of makes me a little emotional sometimes, talking about it.
On a more fun note, Borges already has a great idea for next season's "Sunday Funday" adventure that can help top this week's festivities — like Edgar getting it on with '70s Steven Spielberg in a haunted house, saying: "I've been pushing Cuba [laughs]. Let's get there before Trump builds 20 billion dollars worth of hotels and ruins the country entirely. And I just think, I think it would be cool if it was kind of like a fever dream of Edgar's where he gets stolen and they have to go — I mean kidnapped, I don't know if people get stolen, maybe they do in Cuba [laughs]. … First I have sex with '70s Steven Spielberg and then '70s Fidel Castro." Happy Halloween?