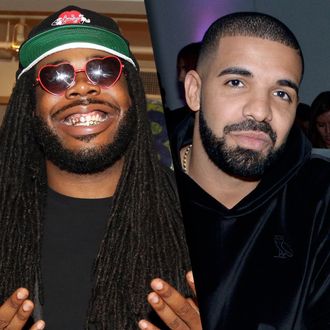 Case closed, probably.
Photo: Getty Images
Shortly after Drake showed off his unique dance moves in the video for "Hotline Bling" that debuted last night, Virginia rapper D.R.A.M. took to Twitter to address the controversy he's been linked to since the song's release. When Drake first premiered "Hotline Bling" on his OVO Sound radio show earlier this summer, he billed it as a remix to D.R.A.M.'s Latin-flavored summer jam "Cha Cha," a song Beyoncé first co-signed in an Instagram edit. But as "Hotline Bling" continued to gain traction on the charts (it's expected to give Drake his first solo No. 1 song as early as next week), it evolved from remix to rework, loosening ties to D.R.A.M.'s original. That's hasn't sat well with the up-and-comer, who tweeted Monday night that he feels Drake "jacked" his original:
Now, in an excerpt from Drake's Fader cover story that was never published, Drake is responding to the confusion over the song's origins. He tells the magazine:
"You know, like in Jamaica, you'll have a riddim and it's like, everyone has to do a song on that. Imagine that in rap, or imagine that in R&B. Imagine if we got one beat and every single person — me, this guy, this guy, all these guys — had to do a song on that one beat. So sometimes I'll pick a beat that's a bit, like, sunnier, I guess is the word you used, than usual, and I just try my hand at it. And that's kind of what 'Hotline Bling' was. And I loved it. It's cool. I've been excited by that sort of creative process."
In his mind, Drake's "Hotline Bling" and D.R.A.M.'s "Cha Cha" share a rhythmic thread in that they are both derived from the same sample (or "riddim"), Timmy Thomas's "Why Can't We Live Together," which Drake credits on his song, while D.R.A.M. altered it with popular sound effects from Super Mario and did not credit. By Drake's definition, he sees "Hotline Bling" as more of an inspired-by than wholesale theft of a lesser-known song. (Though, as both Meek Mill and Vulture's Lindsay Zoladz have noted, it's not always easy to make that distinction when it comes to Drake.) Once again, Drake appears to have had the final word. Sorry, D.R.A.M.