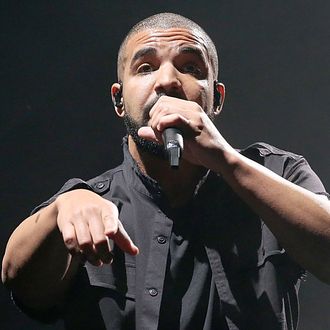 We'll still call you on your cellphone.
Photo: Gary Miller/Getty Images
Sorry, Drake: Billboard didn't get you that No. 1 you wanted for your birthday. For a sixth week, the Weeknd's "The Hills" has topped the Hot 100 chart, edging out Drake's "Hotline Bling" to deny his Canadian compatriot his first solo No. 1 song. (Drake's only chart topper came as a featured artist on Rihanna's "What's My Name?") Instead, for a third week, Drake will have to settle for the runner-up spot. But wait, with all those memes, how did he again fall short? Unfortunately for Drake, his deal with Apple Music proved to be his downfall: Apple Music does not currently report its video streams to Nielsen Music (which decides Billboard's rankings), meaning all those times you replayed the video on Apple Music (for GIFing purposes, surely) didn't help him in the long run. Once Drake moves the video over to Vevo and YouTube, those views will start to count toward the chart, which means it's technically still possible for him to get his first solo No. 1 — just not likely any time soon.
But even next week might prove too late for Drake. Besides the Weekend, he'll also have to contend with the decade's biggest seller: Adele. With the arrival of her latest single, "Hello" — which broke the single-day Vevo record and raked in as many as 450,000 song sales in two days — she's on pace to have the largest U.S. digital sales week ever for a single song. That means she's more than guaranteed to debut in the top spot on next week's Hot 100. Drake yearned for the days when women used to call him on his cell phone, but someone should've warned him about Adele and the power of her flip phone.