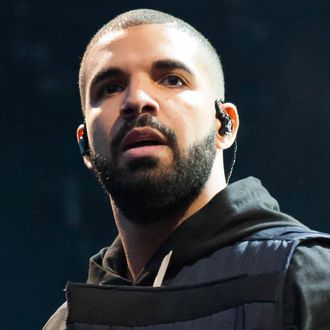 No one loves Skepta more than Drake.
Photo: Michael Tubi / Demotix/Corbis
A Drake co-sign can either go a long way (ask Migos) or absolutely nowhere (poor ILoveMakkonen). It's Drake's favorite pastime to give his blessing to newbies whose style he'll eventually replicate, and now he's making his endorsements permanent. U.K. grime artist Skepta posted a photo on Instagram yesterday of his new BFF Drake sporting some fresh ink with the initials "BBK" branded on his left shoulder. What's BBK? It stands for Sketpa's label, Boy Better Know, which Drake will one day likely absorb into his own OVO imprint.
Drake has long championed lesser-known artists (he helped the Weeknd break into the mainstream), but he's never gone to such pains to do it. So, what makes Skepta worthy of adding to Drake's scattered body of artwork? For the last couple years, Drake has stanned for all things U.K.-related, and he appeared with Skepta on a remix while teasing more collaborations to come. (He even lifted some of Skepta's verses on IYRTITL cut "Used To," thanking Skepta in the credits.) Skepta recently told The Fader that his "vibe has rubbed off on Drake a bit" — now so has his label. Meanwhile, Future awaits Drake's Freebandz tat in return for that really big ring.