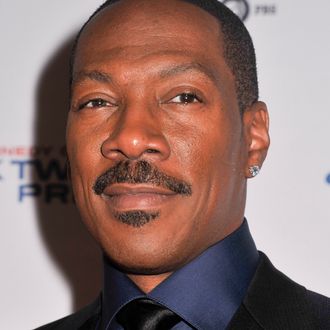 Eddie Murphy.
Photo: Kris Connor/2015 Getty Images
As Eddie Murphy accepted the Mark Twain Prize for American Humor on Sunday night, he did something delightfully unexpected: a Bill Cosby impression. It was part of a mini stand-up set that Murphy performed upon receiving his Twain bust at the John F. Kennedy Center for the Performing Arts in Washington, D.C. "Bill has one of these," Murphy said, according to the Washington Post, referencing Cosby's 2009 honor and recent sex-abuse scandals in the same breath. "Did you all make him give it back?" He proceeded in Cosby's voice: "You may have heard recently that I allegedly put the pill in the people's stomach … If I ever see or meet this Hannibal Buress in person I am going to try and kill this man!"
The crowd seemed to enjoy what was the hallowed comedian's first set in nearly three decades, according to the Post — especially the Cosby bit, which Murphy has explained he's stayed away from as of late because he initially didn't find anything about the idea funny. But that changed not long before Sunday, when Murphy told Arsenio Hall and Chris Rock he wanted to cap his special night with a special send-off. "[Murphy] said, 'Because Cosby gonna get sick of this soon, he's gonna get sick of people hating, and eventually he's gonna have to say something,'" Hall told the Post, of the honoree's change of heart. "And [Rock and I] were like, 'That is funny, man. Are you willing?'"
Evidently so. The ceremony also included salutes from such big-name comedians as Kathy Griffin, Kevin Nealon, Trevor Noah, Joe Piscopo, Chris Rock, and Tracy Morgan, among others. "[Murphy]'s the reason I'm in comedy. He's the reason I have a job," Morgan, who has been mounting his post-accident comeback, reportedly said. "He's the reason I have a career." Murphy received the nation's top prize in comedy tonight for his unparalleled stature as "the most commercially successful African-American actor in the history of the motion picture business," and "one of the industry's top-five box-office performers overall," according to the Kennedy Center. Unless video leaks (we'll keep our eyes peeled), you'll have to wait to catch the night's full broadcast (and Cosby impression) on November 23, via PBS.