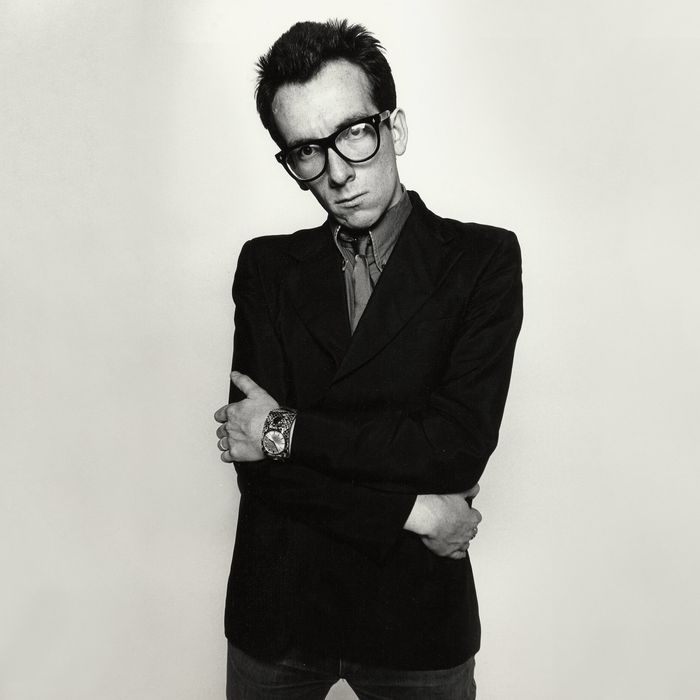 Photo: Chris Gabrin/Redferns
Let's just not talk about the notorious Columbus incident, a stain of Elvis Costello's career more ghastly than 2003's North and apparently more permanent than 1984's Goodbye Cruel World. Instead, let's talk about what happened after the Brit got drunk in America, referred to a few of his R&B heroes with the worst word imaginable, and got his ass handed to him by a folk rocker.
"It took a while for the story to make the papers," he writes in his memoir out this week, Unfaithful Music & Disappearing Ink, "but rather than being shrugged off as some drunken idiocy, it seems there were plenty of informants anxious to make sure everyone knew I should be reviled." He was assigned two off-duty NYC cops as bodyguards, who accompanied him on his tour through the Colonies. As for Costello himself: "The only comment made from the stage was to open almost every show with the old Merseybeats' number 'I Stand Accused.'"
He'd have been better off singing Jerry Butler's "I Stand Accused," which was a hit for the Impressions in 1964. Covering a song by an R&B artist might have signaled a bit more contrition and deference to the African-American culture he had so recently maligned. Instead, Costello chose the Merseybeats' cover of the hit by the white British pop-soul singer Tony Colton, which is essentially a ripoff of Butler's. Whether or not Costello would have known the difference in 1979, however, is almost beside the point. It's a revealing choice of song, one that enabled him to register a cheeky and defiant comment on the controversy: not quite an explicit confession or an outright apology, even if it does suggest a beleaguered psyche and perhaps a heavy heart. "They might show some mercy if I could explain / Girl, I love you much that I'm almost insane." Substitute "American rhythm and blues" for "girl" and you've got a song certain to keep your fans and detractors guessing.
Looking back on the ordeal, Costello does not try to squirm out from under the charges but writes, "Whatever I did, I did it to provoke a bar fight … Surely this was all understood. Didn't they know the love I had for James Brown and Ray Charles, whose record of 'The Danger Zone' I preferred to watching men walk on the moon?" Reading Unfaithful Music, you somehow never doubt the sincerity of that love, just as you don't doubt that Costello could be a raving bastard when he's drunk. He presents himself as the kind of guy who has a song for every occasion, whether it's a wedding or a funeral, a seduction or a breakup. Presumably he has a mental playlist for a trip to the dentist or a late-night stubbing of toes. During one of his first concerts with the Attractions, they ran out of songs to play, so they launched into Merle Haggard's "No Reason to Quit."
Even when a song may not say exactly what he needs it to, music is still his preferred means of communication; which is to say, Costello's knowledge is nerdishly prodigious. He stumps George Jones with one of the Possum's own deep cuts, and he tries to do the same with Bob Dylan — but nobody out-alludes that guy. With the obsession of a dilettante or possibly a savant, Costello jumps around from country and old-time folk to punk and reggae, from New Orleans jazz to Brill Building pop, from the classical compositions of the Brodsky Quartet to the erudite melodies of Burt Bacharach.
There are nearly 400 songs Costello name-checks as influences within the pages of Unfaithful Music, and hundreds more he refers to in passing. Of those 400, we culled together a 300-song playlist that is by no means complete, due in large part to Spotify's scarcity of Beatles, Bacharach, and Neil Young albums. (The Fab Four are the most cited artist in the book, with 22 songs — from "Please Please Me" to "Let It Be" — admired by Costello.)
Of course, Costello hasn't merely listened compulsively across innumerable genres — he's recorded in them as well, which creates one of the most bizarre career arcs of the rock 'n' roll era. How did the angry young man of the late 1970s — whose reputation as one of the smartest and bristliest figures in the London punk scene seemed to even predate his first singles — grow up to be a revered troubadour craftsman playing the White House, jamming with various Beatles, and composing ballet scores? It takes Unfaithful Music nearly 700 pages to answer that question, arguing fairly persuasively that the bloke born Declan MacManus has never done anything other than follow his erratic muse wherever it leads.
Costello is exercising the same muscles whether he's listening to other people's songs or writing his own. So, while the passages about his thorny relationship with his father can be harrowing (and just try listening to Clifford Brown's "Yesterdays" without bawling your eyes dry), the most revealing part of Unfaithful Music may be Costello's descriptions of the songs that have moved him, inspired him, expanded his world, and goaded him to be a better songwriter himself.
As soon as he started writing his own songs, Costello began flagrantly quoting his heroes and contemporaries, and even now he readily reveals his sources. His vocal performance on "Alison," he writes, was based on the Spinners' 1973 single "Ghetto Child," and "Lipstick Vogue" had its unlikely origins in Tom Petty's "American Girl." It's no big confession, but simply the way art works: "A lot of pop music has come out of people failing to copy their model and accidentally creating something new. The closer you get to your ideal, the less original you sound."
Costello quoted liberally from the pop canon, but every song, even the ones sung from other perspectives, was stolen from his life, such that you can get as nuanced a portrait of the man from Unfaithful Music's two-part "soundtrack" (i.e., a Costello greatest hits) as you do from the book itself. Perhaps his wisest decision as a memoirist was to write Unfaithful Music with no regard for chronology, so that you glimpse the struggling young artist and the settled old legend side by side, although whether you glimpse them in horror or relief will depend on whether you prefer 1977's My Aim Is True or 2006's Allen Toussaint collaboration, The River in Reverse.
Perhaps the most telling moment in the book, not to mention the most pivotal moment in his life, comes when Costello has the kind of epiphany that most artists never stay relevant long enough to enjoy: You don't have to lead a calamitous life to write good songs. "Life takes much longer than the average pop song. It is full of wrong choices and inconvenient, abandoned responsibilities. It is much more painful and less easily forgiven." That realization that life trumps art in terms of difficulty has obviously had immense implications for his personal life, but it has also affected his art. His new material often sounds too rehearsed or too self-conscious, but he has learned to let personal details carry much more weight, as on "The Puppet Has Cut His Strings," from his 2013 collaboration with the Roots, Wise Up Ghost. It was inspired by the death of his father, and you can sense an ease and lightness in his imagery, especially the mention of Ross MacManus's favorite song.
The breath is slow and shallow too
The sky is bright Venetian blue
The cardboard sun is all ablaze
The air is painted Clifford Brown
Caressing "Yesterdays"
Costello may be a better songwriter than he is a memoirist, as Unfaithful Music is extravagantly long and at times evasive. Yet by the final pages you get the sense that its strength is less as an autobiography than as a textbook on songwriting. Life and art are too bound up to be separated into cause and effect, inspiration and creation. In the end, Costello's undying love of pop music as a means of expression and communication may be his most defining trait. "All of these songs, souvenirs, and fragments of history are just reasons to love one another more," he writes. Who knew he'd grow up to be such a softie?