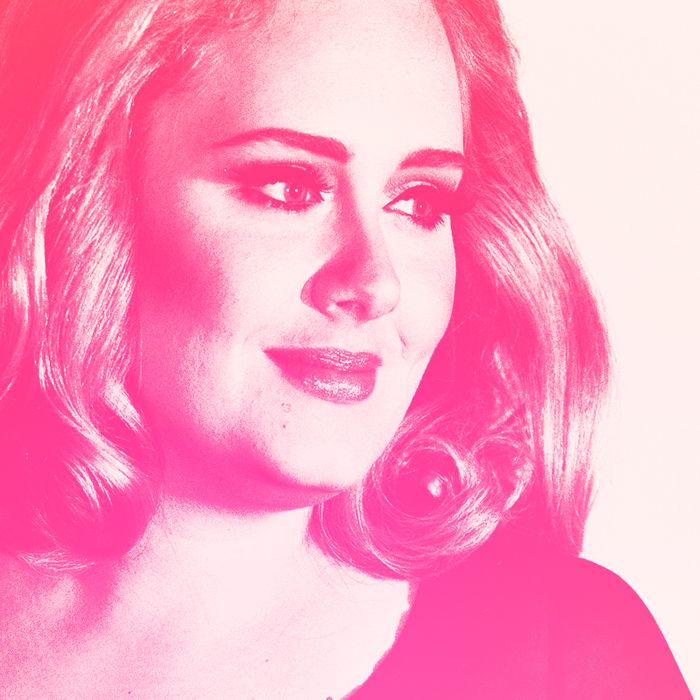 We haven't done much healing since you left us either, Adele.
Photo-Illustration: Maya Robinson and Photo by Getty Images
Over the weekend Adele mysteriously debuted a snippet of a new song in a commercial during U.K. X-Factor, signaling her anticipated return with a casual greeting: "Hello, it's me." Nearly four years ago, Adele similarly turned the music industry on its head with 2011's 21, which went on to be certified diamond (selling 10 million copies) in less than two years. Since reaching that level of global ubiquity, vocal issues and the birth of her first child have largely kept Adele out of the limelight. She returned briefly with her 2012 Bond theme "Skyfall," collected her Oscar, then retreated back to a quieter life in England — occasionally resurfacing in pictures with Stevie Nicks or out for her birthday dressed up as George Michael.
But with the surprise release of her first new music in three years shortly following reports that her next album (expected to be titled 25) will be released next month, a new Adele LP likely seems upon us. In preparation for Adele season, here's a timeline of everything we know about the project so far.
April 8, 2013: The Sun reports that Adele has begun sessions for her third album, working with Simian Mobile Disco's James Ford and singer-songwriter Kid Harpoon.
January 24, 2014: Phil Collins reveals he's been writing with Adele for her new album.
January 24, 2014: Multiple Oscar nominee Diane Warren tells HitFix that she's been writing with Adele and the two "really clicked." She says, "I'm really excited about the stuff we did."
February 19, 2014: Wiz Khalifa says he's recorded a "really hippie" unreleased song with Adele, thought to be for 2014's Blacc Hollywood.
March 31, 2014: Ryan Tedder says he's been working with Adele again: "I haven't heard everything she's done, but I've heard everything we've done and I'm as proud of it, or prouder of anything we did on the first album, and she is sounding even better than ever." Then he warns it might be a long wait: "She will deliver the album on her own timetable, at her own pace, and the only person that will ever declare it finished will be her, when she decides it's finished.
May 4, 2014: Adele appears to tease 25 for the first time.
May 24, 2014: Wiz Khalifa says his Adele collaboration "didn't make [his] album," but may be released in the future.
October 9, 2014: Despite Adele'e cryptic earlier tweet, we learn that no new Adele album would arrive in 2014.
October 30, 2014: Phil Collins follows up on his previous comments, saying he hasn't been in contact with Adele since their initial introduction. "She got hold of me and asked if I would write with her. She gave me a piece of music to finish and at first I didn't know if I'd failed the audition as I didn't hear back from her … And now I've heard there's a [new album] coming out. I'm not on it, I know that … She's a slippery little fish is Adele."
January 9, 2015: "Rolling in the Deep" producer Paul Epworth tells Billboard that Adele's album "will come when it's ready."
February 2, 2015: The Daily Mirror reports that, despite his previous comments, Phil Collins is indeed involved with Adele's album again.
March 6, 2015: Amazon Italy appears to accidentally put up a preorder link for 25, then later removes it.
August 27, 2015: Billboard reports that Adele's next album will be released in November. It claims its contributors include pop songwriting/production powerhouses Danger Mouse, Ryan Tedder, and Max Martin, plus promising indie newcomer Tobias Jesso Jr.
September 10, 2015: Blur's Damon Albarn reportedly tells The Sun that he's worked on Adele's album, but he can't confirm if his contributions will make the final cut. He calls the songs she's done with Danger Mouse that he's heard so far "very middle of the ground."
September 23, 2015: Ed Sheeran tells Capital FM, "I haven't heard [Adele's album], but everyone I know who've worked on it is just like, 'Dude … that record!' Apparently, it's really good."
September 23, 2015: Hits Daily Double reports that Adele has plans to appear on Saturday Night Live, the Today show, and possibly The Tonight Show Starring Jimmy Fallon, in addition to her own NBC concert special.
September 24, 2015: Sia releases a new song, "Alive," originally from the Adele sessions. She says Adele rejected it (as well as a separate song, "Birds Set Free") because "she just wasn't feeling it" and "it sounded like a Sia song." Sia then confirms to Zane Lowe that she still has a song on Adele's album.
September 29, 2015: Showbiz411's Roger Friedman reports that Adele's album will drop November 20.
October 5, 2015: Mark Ronson reveals that he's worked on the album but doesn't know if his songs will make the final track list.
October 18, 2015: A 29-second snippet of a new song randomly appears in a commercial during X-Factor in the U.K.
October 18, 2015: Ryan Tedder (via One Republic's Twitter) appears to confirm the song's authenticity.
October 21, 2015: Adele writes a long letter to her fans explaining why her next album has been delayed. She calls it a "make-up record" and confirms 25 as the album title.
October 22, 2015: Adele announces that 25 will be released on November 20. She shares the album's cover, tracklist, and announces its first single, "Hello," will be released on October 23 with a video directed by Xavier Dolan.
October 23, 2015: Adele releases the video for "Hello," co-starring Tristan Wilds. She tells Zane Lowe that 25 will be her last age-titled album.