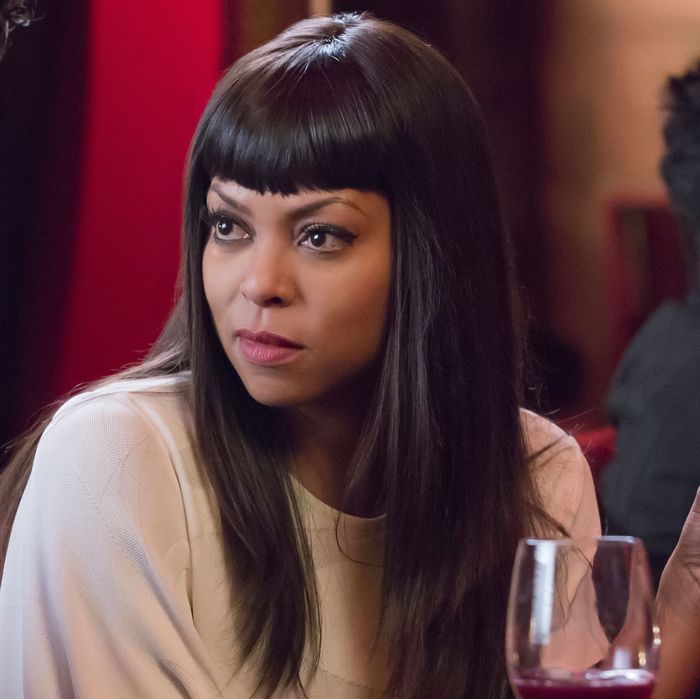 Even Empire isn't immune to falling ratings.
Photo: Chuck Hodes/FOX
We're five weeks into the new TV season and, as expected, there's not much joy in the land of linear networks. A year ago, broadcasters were beaming over a slew of significant hits: How to Get Away With Murder, Black-ish, Scorpion, Madam Secretary, The Flash, and Gotham all opened big and stayed strong. By contrast, 2015 is shaping up to be a season for settling — for shows with solid, not spectacular audiences (Blindspot, Quantico, Limitless) or series that are at least holding their own in a tough environment (Rosewood, Life in Pieces, Heroes Reborn). The settling applies to the flops, too: Shows that in years past would have already been yanked off the air, such as Minority Report, Blood & Oil, or Truth Be Told, instead are simply seeing their episode commitments cut while they burn off their remaining installments. Given how long networks now give shows to find an audience, it's still too soon to make many definitive pronouncements about how the season will ultimately shake out. But some early trends have emerged. Here are five things we know so far:
Most of the season's biggest bets haven't paid off (yet).
Headed into what was generally regarded (by network execs and industry observers alike) as a very lackluster fall season, expectations for breakout hits were pretty low. What's most distressing about the autumn so far, however, is how even the handful of shows considered most likely to succeed have instead … not. ABC's The Muppets and Fox's Scream Queens are the most high-profile examples in this category: two shows that received relentless (and, in the case of Queens, very early) marketing pushes and which both seemed to have all the elements needed to emerge at or near the top of the freshman class. But after a strong opening, Nielsen numbers for The Muppets are looking about as limp as one of Fozzie the Bear's rubber chickens, while Queens opened well below industry expectations and then went on to slip even lower in the ratings. Fox in particular has been touting the difference time-shifted and multi-platform viewing makes on audience size, but even after considerable DVR growth, Queens remains very much a niche player, attracting mostly an audience of younger females. The Muppets, meanwhile, is now generating smaller DVR-adjusted ratings than ABC's other two Tuesday scripted originals, Fresh Off the Boat and Agents of S.H.I.E.L.D.
While Muppets and Queens arguably rank highest as disappointments, they've got competition. NBC snagged the rights to Best Time Ever With Neil Patrick Harris just over a year ago by offering the show's producers a huge per-episode fee (nearly $4 million per hour, according to a person familiar with the negotiations). But the stunt/game show has barely made a blip in the ratings, and often ends up one of the lowest-rated shows among young adults on Tuesdays once DVR figures get tallied. Over at CBS, Code Black, touted by top network execs as "the new ER," isn't anywhere near death —it's pulling in a respectable audience approaching 10 million — but its demo ratings are decidedly meh and buzz around the show is nonexistent. And while the CW has its own, highly subjective standards for ratings success, there's little obvious upside in the Nielsen numbers for its musical comedy Crazy Ex-Girlfriend. Despite worshipful reviews, the show has been struggling to get to 1 million weekly viewers (including three days of DVD usage) and attracts about half as many young-adult viewers as the modestly rated Jane the Virgin, which airs after Crazy on Mondays.*
It should be noted that there's a big difference between a disappointment and an all-out dud. While all of the aforementioned newbies failed to live up to preseason hype (or hopes), none should be written off at this point. ABC's rush to get Muppets on the air as quickly as it did indicates just how much network boss Paul Lee would like the franchise to work at his network; it's hard to see him not giving the show at least a full season to lure back some of the viewers who showed up for the premiere. Fox likewise takes its relationship with Scream Queens boss Ryan Murphy very seriously, and has gone to great lengths to insist it's encouraged by all the nonlinear viewing of the show taking place on Fox.com, Hulu, etc. The show is already designed to reboot every fall, so it wouldn't be shocking to see the network and Murphy put their heads together for a slightly broader-skewing chapter two. As for Code Black, CBS has ordered scripts for additional episodes beyond its initial 13-hour commitment, a sign the network will be patient. CW also has a history of giving new shows it loves time to build (though the super-low numbers for Crazy may test that tendency). And while NBC would be justified giving Best Time Ever the hook after its first cycle of eight episode ends, network boss Robert Greenblatt frequently ignores ratings to keep his passion projects alive (see: Aquarius, season two).
Empire cooled down sooner than expected.
Not even the most optimistic ratings prognosticators expected Fox's Wednesday-night juggernaut would continue to grow its audience every week this fall the way the show did during its impressive first season. And only the most bitterly partisan rival network suit would consider Empire's season-two numbers so far as anything but spectacular: Among viewers under 50, there is no bigger show on broadcast TV, period. Still, given all the momentum the Lee Daniels–Danny Strong–created show had last spring, it was a bit of a surprise when Empire began the fall with about 1.5 million fewer same-day viewers than it had when it wrapped up in March. Even more unexpected: Over the first month of the new season, about a quarter of the show's audience stopped watching the night it aired, with same-day viewers dropping to just over 12 million viewers. (The decline has been a bit less severe among younger audiences.) Instead of a season-two growth spurt, Empire began its sophomore year with shrinkage.
The ratings reversal has resulted, perhaps predictably, with a smattering of stories speculating whether some fans are unhappy with the show's creative direction. That's certainly one possible explanation: Some audiences who hopped on the Empire bandwagon when it was an overnight phenom last winter may now have decided the show isn't for them. But what's just as (if not more) likely is that the same changes in audience viewing behavior that have had an impact on other TV shows apply to Empire as well. Viewers know that between DVR, on demand, and streaming, there's no need to be in front of a TV set every Wednesday night. And with the fall far more crowded with new and returning shows than the winter, audiences who previously opted to watch Empire live, or nearly live, may now be saving up episodes to binge later. There's Nielsen evidence to support this: Once seven days of DVR replays were tallied, the October 7 episode of Empire saw its rating among adults under 50 jump 45 percent, while last March's season finale grew a more modest 35 percent via time-shifting. Fact is, over the past few years, most shows that had strong starts the first few weeks of their freshman year — Agents of S.H.I.E.L.D., Scorpion, How to Get Away With Murder, The Blacklist — have seen their overnight ratings take a hit by the end of the first season or the beginning of the second. It turns out even the mighty Empire isn't immune to the new realities of TV.
ABC's comedy brand is so strong, it's even made Dr. Ken a success.
Ken Jeong is awesome; his new comedy — at least according to the nation's TV critics — is pretty awful. So, naturally, despite being scheduled on Fridays (where many a show has gone to die), Ken has been outrating both of Fox's new Tuesday comedies, recently drew more viewers than ABC's heavily marketed The Muppets, and was one of the first new shows ABC picked up for a full season. Some of the credit for this goes to Jeong's star power, smart scheduling of the show behind the similarly broad-appeal Last Man Standing, and the fact that diverse casting in comedies frequently yields ratings dividends. But a big part of the success belongs to ABC's years-long effort to build a consistent comedy brand around minority families who look and talk like the rest of America.
Much the way America knew it could count on NBC during the 1980s and '90s to deliver smart, sophisticated half-hours such as Cheers, Friends, Frasier, and Will & Grace, ABC has established itself as the destination for smart, well-crafted family comedies. Modern Family and The Middle set the template, with The Goldbergs, Fresh Off the Boat, and Black-ish all following suit and finding their own loyal audiences. And while there's a big difference between ABC's single-camera Tuesday and Wednesday comedies and the throwback fare it airs on Fridays, it's not much of a stretch to argue that ABC has built enough goodwill with comedy consumers that they're willing to cut some slack to shows-in-progress such as Dr. Ken, figuring the network knows what it's doing when it comes to laughs. (An alternate theory: Dr. Ken's over-the-top shtick is exactly what viewers of Friday-night TV want, critics be damned. See also: Two and a Half Men … or ABC's long-running According to Jim.) ABC obviously isn't infallible in comedy, particularly when it veers out of its family-comedy comfort zone (maybe The Muppets would be doing better if Kermit and Piggy were married with Muppet babies?). But at a time when CBS, NBC, and Fox struggle to find even one big comedy hit, ABC suddenly finds itself with an abundance of comedy riches.
Sticking with so-so rated shows is paying off.
Networks not long ago would often cancel marginally rated "bubble" shows with the rationale that it would be hard to do any worse in a given time slot, so why not try something new with a chance of breaking out? But lately, execs have (painfully) come to realize that it's almost always possible to do worse these days: It's now not unheard of for new network shows to draw fewer than 2 million viewers, less than reruns of The Big Bang Theory on TBS. This has led to more borderline shows getting second and third chances, and this fall, the wisdom of such patience has been evident in multiple time slots. Fox, for example, green-lit another season of slumping Sleepy Hollow, even though its sharp season-two Nielsen decline easily justified ye olde axe. Moving the show to Thursdays has, predictably, led to lower ratings, but said numbers are respectable — and, more important, Sleepy is doing better than the show that replaced it on Monday nights, the all-but-dead Minority Report. Similarly, NBC renewed Mysteries of Laura, despite its relatively old-skewing (and thus less advertiser-friendly) audience. But its roughly 9 million viewers on Wednesdays (including DVR replays) give it a bigger audience than NBC's instant dud The Player or the so-so performing Heroes Reborn. And over at Fox, live-action comedies Brooklyn Nine-Nine and The Last Man on Earth will likely never be huge hits. But they're fitting in well on the network's male-skewing Sunday lineup, perform amazingly well on nonlinear platforms, deliver great buzz, and are both outperforming the network's sexy new Tuesday comedies, Grandfathered and The Grinder. These days, broadcasters know it's always good to have a back-up plan.
Cable is not immune to ratings erosion in the fall, either.
Much gets written this time of year about how the big broadcast networks are shedding viewers, with new shows failing to launch and veteran series suffering big ratings declines. But cable is feeling the pain now, too. FX's big fall launch, Kurt Sutter's The Bastard Executioner, has failed to make much of a mark at the network, and hasn't even come close to generating the numbers (or buzz) of Sutter's previous Sons of Anarchy. Ratings for the second seasons of highly praised 2014 dramas The Leftovers, Manhattan, and Fargo have also underwhelmed, with no new viewers coming onboard to check out what all the fuss has been about. (In the case of Leftovers, same-day viewership is actually way down — by more than half — in part because of the show's shift to the more competitive fall quarter, as well as the lack of a True Blood lead-in.) And even TV's biggest show among viewers under 50, AMC's mighty The Walking Dead, has finally encountered a bit of gravity: The first two episodes of the new season dropped by 15–20 percent compared to their analogous 2014 hours, a rare dip for a show that had set new ratings records with each of its five previous season-openers. The numbers bounced back with episode three, and even at slightly reduced levels, TWD towers over just about everything on TV. Still, taken with some actually bad numbers for other shows, it's a reminder that in the era of endless TV (and endless ways to watch it), Nielsen pain is not limited to the supposed dinosaurs of broadcast TV.
* An earlier version of this piece stated that Jane the Virgin was the lead-in to Crazy Ex-Girlfriend. Jane airs after Crazy on Monday nights.