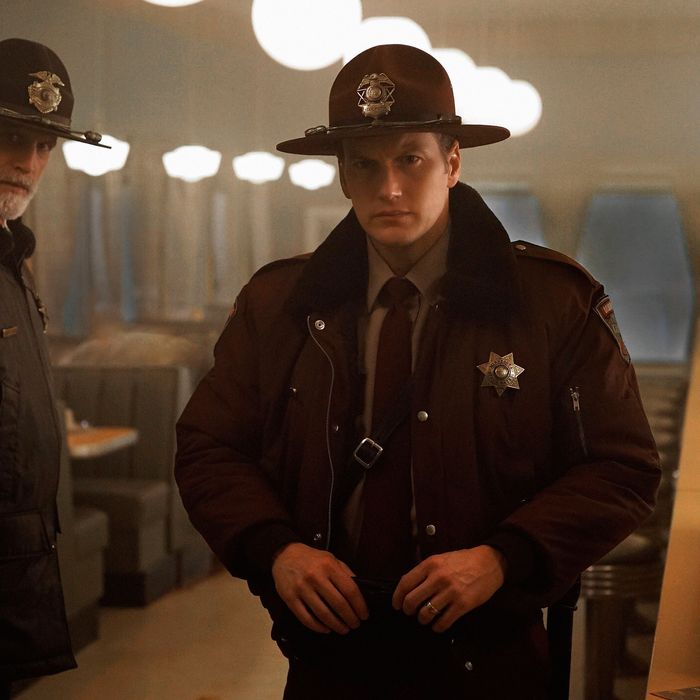 From left: Ted Danson as Hank Larsson, Patrick Wilson as Lou Solverson.
Photo: Chris Large/FX
Things were never going to turn out great for humble butcher's assistant Ed Blomquist (Jesse Plemons) and his wife Peggy (Kirsten Dunst). She wanted spontaneity and self-adventure, while all he could focus on was having a family and inheriting his boss's business. The tension between those two extremes was liable to make Peggy seek solace in Lifespring seminars, which would likely have driven her somewhere close to madness, but certainly farther away from Ed. So maybe he's lucky that fate intervened and sent spastic criminal Rye Gerhardt (Kieran Culkin) careening through Peggy's windshield, his blood leaking and gathering on her pleather interior like a driveway oil spill. Sure, the hit-and-run quickly unraveled into a series of events that left Ed and Peggy with a dead body in their garage freezer and a hastily idealized plan to evade legal intervention. But from Ed's standpoint, at least he felt needed, and he and his ever-distanced wife were back to being bound and in sync.
Naturally, this being Fargo, no ill-conceived misdeed goes without reckoning, and Peggy's about to get all the excitement she can handle. As it happens, Rye wasn't some wasted vagrant stumbling in front of the Luverne, Minnesota, Waffle Hut, waiting to encounter misfortune. He was, in point of fact, a wasted member of Fargo, North Dakota's stalwart Gerhardt crime family — the youngest of three sons begat by figurehead Otto (Michael Hogan) and his wife Floyd (Jean Smart), to be specific. Like any imagined brood worth its TV time, the siblings personify broad, disparate archetypes. Dodd (Jeffrey Donovan), the eldest, is an impetuous enforcer with plans for usurping his parents' supremacy; Bear is just that — a burly, bearded, seemingly gentle giant who will manhandle any loaf of bread or glazed fowl within 50 yards; and then there's Rye, who's got more ambition than brains and a sloppy cocaine habit and, by episode's end, appears dead after bungling an attempt to shake down a local judge by murdering her and two diner employees. And that was all before getting blindsided by Peggy's car and stabbed in the abdomen by Ed for good measure in the Blomquists' garage. If only he hadn't been so distracted by that UFO.
Everyone we're introduced to in circa-1979 Fargo and Luverne has something on their minds besides immediate business at hand. Minnesota State Trooper Lou Solverson (Patrick Wilson, taking on the youthful precedent to Keith Carradine's season-one portrayal) is going through the motions of decoding what went down at Waffle Hut with County Sheriff Hanks Larsson (Ted Danson), who also happens to be his father-in-law. Though their shared primary concern these days is the health of Hank's daughter and Lou's wife, Betsy (Cristin Milioti), who's suffering from cancer. As Lou reads his daughter Molly (hey, young Molly!) a bedtime story (which, in another moment of WTF, UFO-esque oddness, includes language about ejaculating), Betsy's on the other side of the wall folding laundry, and it's as if she's already a ghost. Lou does his best to make small talk with Hank about Betsy's experimental cuisine, and with Betsy about Hank accepting a dinner invitation with some trepidation, but he's overcome by dread.
Season two's premiere presses heavy on the question of whether we're better off when we can see danger ahead, or if the tenuousness of life is more calculable when it catches us by surprise. It's something Floyd has to wrestle with once Otto goes numb and keels over with a stroke while giving a state-of-the-family address to Dodd and Bear. She weeps by his bedside, but overnight will have to contend with Dodd's ulterior intentions and the urgent matter of their loosening grip on Northwest trucking rackets. And those are just the devils she knows. Farther east in Kansas City, a nimble mafia racket is plotting to horn in on the Gerhardts' livelihood. It's all laid out in syndicate middle manager Joe Bulo's (Brad Garrett) handy slide projection titled "Kansas City Northern Expansion Strategy," which he put together with the "boys in research." Endowed by a formal approval from the higher-ups, Bulo sets about besieging the disconsolate Floyd and her provincial kin.
While taking place 17 years prior, this ostensible prequel to last year's "mini-series" feels like a leap forward in tone and texture. A lot of that can be credited to writer–executive producer Noah Hawley fine-tuning the balance of slack humor and foreboding. Fargo 2.0 is, thus far, more black than bleak comedy. But so much of its early appeal is owed to time and place. These events transpire precisely as the Me Decade had flickered to ash and a nation lay vulnerable to the galvanizing charms of cockeyed idealist Ronald Reagan. The dust had finally cleared from decades of deadly warfare and the high of our nation's bicentennial had come down. The reality for millions of Americans, particularly in places like Fargo and Luverne, was a restlessness for something good to come their way after offering half a century of blood and sweat to — in Trump-ian parlance — make America great.
But the tragic reality, which none of these folks could possibly foresee, is that no preening politician was going to descend upon the White House and rescue them from need, no more than Reagan emerging from his trailer to shoot Massacre at Sioux Falls would revise the ugly history of how we mistreated and ostracized native tribes. As is so often the case in epic literature, the only one with any real insight is the eccentric drunk jester, whose warnings go dismissed as the musings of a conspiracy nut. But when Korean War vet Karl Weathers (Nick Offerman, no doubt tickled by his character's name) cautions Lou, "That's how it starts, with something small. Just watch. This thing's only getting bigger," he's invariably prophetic. One errant gunshot can start a war, or, in the case of what actually happened at Wounded Knee in 1890, a deadly massacre that was as unavoidable as it was inevitable. It'd be hard not to wince at what's next if it weren't so much fun watching everyone fret in their knit sweaters, mulling the woes of wasted meat.
Apart from all that:
I'd like to think the split screens were more directly inspired by Survivor's Remorse than Hitchock or De Palma. 
There is no real Betty LaPlage, but there is this.
That aerial of the icy road Rye took to Luverne may have reclaimed the overhead shot.
I was always more of a Ted Bundy guy.
Let Rye not be dead, just to get more gems like, "That's like Jupiter telling Pluto, 'Hey, you're a planet, too.'"
I love that, even in a region with such strange dialect and inflection, everyone is basically speaking a different language on this show.
Plemons is just so interesting to look at.
Peggy could get annoying.
Love the heavy, almost John Zorn–like avant-jazz score.
You get the feeling the women might outwit the men in this one.
Loved Culkin acting like he was actually on coke. (Hate when actors don't act out of character when they're high.)
A lot to love. Let's hope it keeps up.