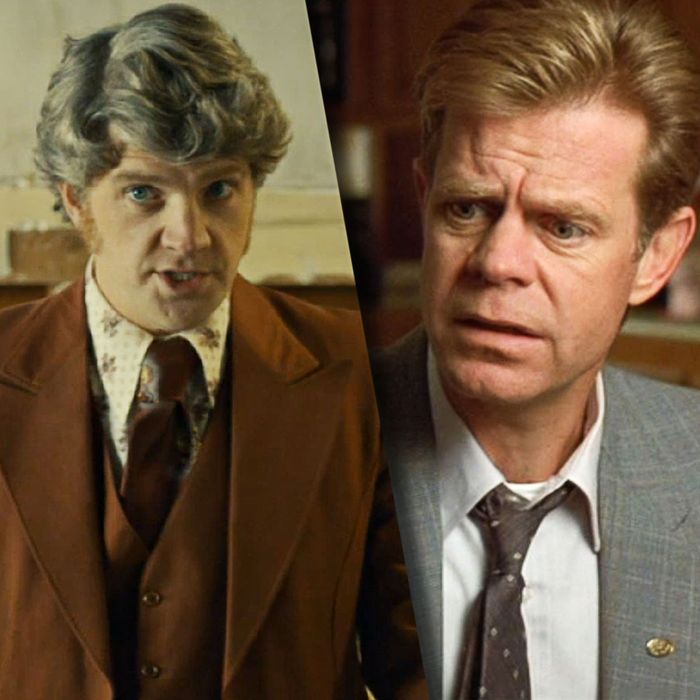 Mike Bradecich, left, William H. Macy, right.
Photo: FX, Gramercy Pictures
Although this season of Fargo is set eight years before the film that inspired it, there are still plenty of references, allusions, and homages to the 1996 film. Here is what we've managed to spot thus far — check back for updates throughout the season.

Episode 1: "Waiting for Dutch"
The film and this season begin in the exact same manner. When Rye Gerhardt shows up an hour late for a meeting with his brother ("11, not noon"), his delay echoes the first scene of the film, when Jerry Lundegaard shows up an hour late to meet with his hired kidnappers. ("I'm sure sorry. Shep told me 8:30. It was a mix-up, I guess.")
Otto Gerhardt looks familiar, doesn't he? From the show, this is Otto Gerhardt, patriarch of the Gerhardt crime family: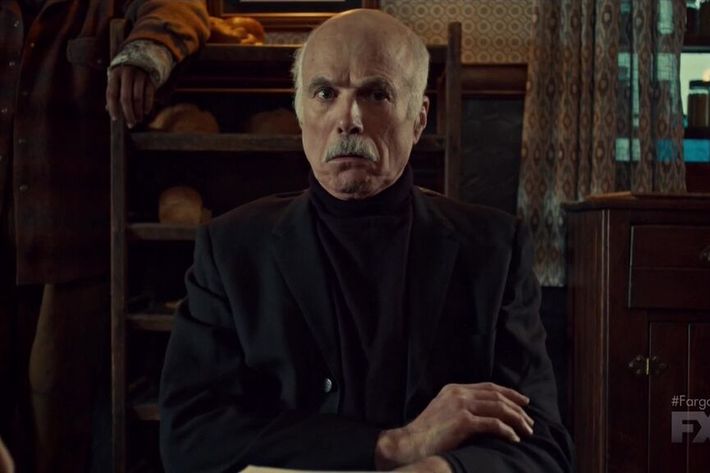 From the film, this is Wade Gustafson, father-in-law of Jerry Lundegaard and ill-fated ransom deliverer: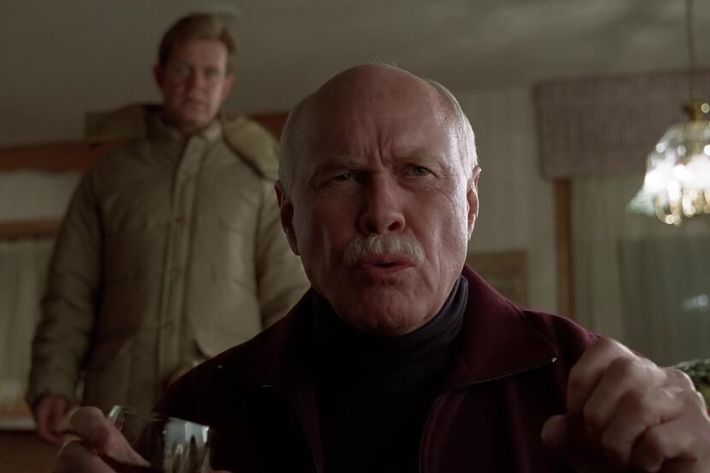 You'd be forgiven for getting the two mixed up.
The typewriter salesman's financial troubles mirror Jerry's. In the film, Jerry (William H. Macy) hatches his hostage scheme to get out of debt. His other scheme, though, is to develop a piece of land into a parking lot with the help of funding from his father-in-law. In the series, Rye enters into a deal with a typewriter salesman (Mike Bradecich), whose mannerisms echo Jerry's. He is confident that this latest typewriter model will allow them to "turn on the money spigot." Of course, this is Fargo, and both ventures result in dead bodies.
A murder begins with one main target, then ropes in two innocent bystanders. The first murder in Fargo the film occurs when an unlucky police officer pulls Carl and Gaear over. While Carl is moving the body, two people happen to drive by and bear witness, forcing Gaear to chase them down and add them to the body count. In the series, Rye — high on cocaine — pulls a gun on the judge and shoots her dead. However, he also seems to have forgotten that he committed the crime in full view of the Waffle Hut's cook and waitress, forcing him to take their lives as well.
Criminals love breakfast. Rye commits his murders at the Waffle Hut, which could be analogous to the film's unseen, much-lauded "pancakes house."

Episode 2: "Before the Law"
A salesman deals with creditors. Before Mike and his hit men accomplices put some pressure on Skip, the typewriter salesman, he can be heard on the phone with his creditors, mirroring a similar scene in the original film.
Ed Blumquist grinds up his victim. This one's pretty obvious, right? Substitute a meat grinder for a woodchipper and you've got the original film's most infamous scene. Only Ed doesn't get caught … yet.
Episode 3: "The Myth of Sisyphus"
"To kill all those people. And for what? A little money?" Another on-the-nose reference, said by Hank Larsson at the hair salon, hearkening back to Marge Gunderson's monologue at the end of the film.
Freaking out by your car. When business deals go south, as they do for Jerry Lundegaard and Skip the typewriter salesman, there's no better therapy than taking out your anger on your car.
Episode 5: "The Gift of the Magi"
When Peggy packs up and goes to sell her car, the song that plays in the background, a cover of Jose Feliciano's "Let's Find Each Other Tonight," is a direct nod to the movie. In one scene, Steve Buscemi takes an escort out to see Feliciano, who performs the song. (I'm about 99.9 percent sure that the version used in the show is a cover by Jeff Tweedy, but I can't find any record of such a song existing.)
Episode 8: "Loplop"
This episode is an extended riff on the cabin sequester in the film, when Carl and Grimsrud take Jerry's wife up to the cabin and leave her tied up there. Like her, Dodd doesn't survive. Plus, when Dodd gets let out of the trunk, he makes a similarly noble but terrible attempt at fleeing.
Episode 9: "The Castle"

There's not a whole lot of direct homage here, but the Coen Brothers love their crappy motel showdowns. Jerry gets arrested at one in his underwear at the end of Fargo (but this even more clearly points to No Country for Old Men).
Episode 10: "Palindrome"
Lou and Peggy's cop-car conversation, with her sitting in the back, a not-yet-convicted criminal, and him sitting up front going over the crimes in his mind plays as a prolonged version of the film's final scene. Though in this one, the criminal responds.

And, of course, this episode begins and ends with Carter Burwell's famous film score.
Did we miss anything? Let us know what you spotted in the comments.