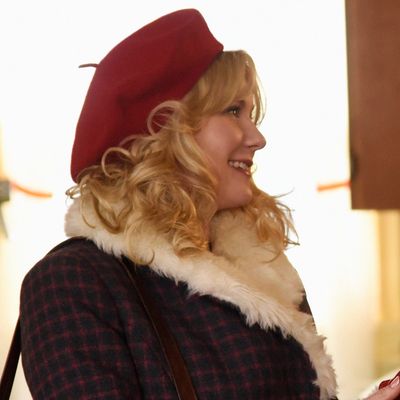 Kristen Dunst and Jesse Plemons in Fargo.
Photo: Chris Large/FX
I don't want to spoil too much in this review because I plan on revisiting Fargo again next week, when audiences have had a chance to savor it; what you need to know right now is that season two is one of the better TV dramas of an already excellent year, and that series creator Noah Hawley, his filmmaking team, and his cast have perfected what was already a promising spinoff of the Coen Brothers' 1996 classic.
This second series is a period piece set in 1979. It's mainly the story of a bloody internecine crime war in the Midwest involving the Gerhardt family, a bunch of two-bit Northern European Corleones, with a parallel story about the sheriff investigating their crimes: Luverne, Minnesota's Lou Solverson, played by Patrick Wilson. (Lou, of course, is the same guy played by Keith Carradine in the original Fargo series, the father of Alison Tolman's Molly.) The crime family is led by Michael Hogan and Jean Smart's Otto and Floyd, with their three sons Rye, Dodd (Jeffrey Donovan), and Bear (Angus Sampson) rounding out a King Lear–like arrangement of ambitious siblings.  The supporting cast is a list of actors you're always happy to see, including Cristin Milioti as Lou's wife, Betsy, who is battling cancer; Bokeem Woodbine as an Afro'd Kansas City enforcer who travels everywhere with a couple of mute, black-hatted twins who are both named Kitchen; Brad Garrett as a middle manager for the KC mob; Ted Danson as Lou's father-in-law, a sheriff in a nearby town; and Kirsten Dunst and Jesse Plemons as a hairstylist and her apprentice-butcher husband, who get caught up in the ever-expanding criminal conspiracy, which pits the Gerhardts against the KC mob that wants to swallow up their operation. (There is a hint of Macbeth and Lady Macbeth in the latter couple's relationship, but with more "You betchas.")

But the crime story is merely the clothesline along which Fargo strings all manner of subplots, embellishments, grace notes, and splendid images. Season two expands and deepens a fiendishly complex world. Its conception owes as much to Stephen King's Maine — and in its more nuanced moments, Jon Dos Passos's USA trilogy; yes, really — as it does to anything the Coens have made.
Coen-esque echoes abound, though (or should I say "abideth"?). They include, but are by no means limited to, a waffle hut, a lock being shot out of a door, fear of extraterrestrial visitation, pieces of music from the soundtracks of Raising Arizona and O Brother, Where Art Thou?, and (most hilariously) an appearance by a relative of The Big Lebowski's Walter Sobchack, a conspiracy theorist played by Nick Offerman. There are periodic snippets of nonexistent Ronald Reagan films, shot not just in black-and-white but in period-accurate visual styles, with tracking shots quivering a bit (cameras were much heavier in the 1940), film scratches, and moments when the film seems to snag momentarily in whatever "projector" is showing it. Reagan himself is a character; he's played by none other than Bruce Campbell, Sam Raimi's favorite early leading man and part of the Raimi-Coens northern-Midwest filmmaking mafia. The period soundtrack avoids the usual 1970s signifiers, instead showcasing the likes of Burl Ives' "One Hour Ahead of the Posse," Bobbie Gentry's "Reunion," and Billie Thorpe's "Children of the Sun," and when the show cuts to split-screens, it's never just to announce, "Hey, we loved these in '70s movies!"; the juxtaposed images always have an expressive function, drawing connections between characters that have as much to do with their emotional states as their plot function.
Gratifyingly, these homages and flourishes are always playful and glancing. They never substitute for actual characterization and conflict. They have the same effect as the script's plentiful biblical allusions, the first of which finds a woman relating the story of Job to the Fredo Corleone of the Gerhardt family, jealous kid brother Rye (Kieran Culkin, looking like a pickled version of Steve Buscemi in Fargo). They both enrich and comment upon the action, and in contrast to season one, which sometimes became too enamored with the badass-ness of its loquacious trickster-killer character, Lorne Malvo (Billy Bob Thornton), you never feel that Hawley and company are trying to gussy up a crime saga or drawn-out slasher picture with notes from an old college lit class. It feels organic, which is even more remarkable considering how carefully constructed it all is.
The bursts of violence are expected, yet they never appear in the expected place, and they never resolve quite as you think they will. A coffee-shop massacre in the pilot that jump-starts the plot is as meticulously designed and horrific as any of the rub-outs on Boardwalk Empire, but more mournful, at moments strangely beautiful, especially when the scene cuts to a Dutch-tilted close-up of an opening and closing door, or moves to outdoors so that we can observe the mayhem from a distance through a series of square windows.  Like many other setpieces in the series, this one has a payoff so bizarre and beautiful, and in the end so absolutely goddamned bizarre, that you want to stand up and applaud. ("That's his shoe, all right," a deputy says at the end of the crime-scene investigation, shining a flashlight high in the air, offscreen.)
Many of the performances deserve their own stand-alone appreciations, none more so than Wilson's as the young Lou, a Vietnam veteran who's much tougher (due to his wife's illness as well as his war experience) than anyone on the wrong side of the law expects. It's a remarkable feat of acting continuity, in that it syncs up perfectly with Carradine's performance in season one, yet it never feels like Wilson is doing an impression. He's a young man, and he's in good shape, but he carries himself like an older, heavier one, as if weighed down by burdens he hasn't fully acknowledged because he's not ready yet. You get a sense of a personality, perhaps a soul, in the process of evolving. It deserves to be likened to Robert DeNiro's work as the young Vito Corleone in The Godfather: Part II. I don't make that comparison lightly. He's that good.