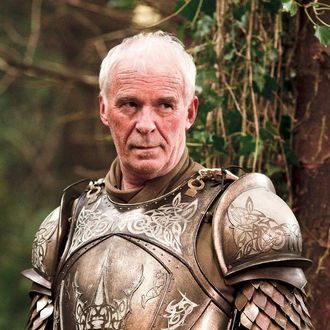 McElhinney as a still-alive Barristan.
Photo: HBO
At a press conference at MCM London Comic Con last weekend, Ian McElhinney revealed he was a little bit "miffed" at the way Game of Thrones producers handled his character's death last season. Though McElhinney's Ser Barristan is still alive in George R.R. Martin's books, the show version of the character was cut down by a gang of masked insurgents in episode four of season five, and the actor says he didn't find out about his sudden departure until he saw the shooting schedule and put the pieces together. "I was a bit disappointed by that," he said. "It wouldn't have made any difference, but I felt that as a matter of just courtesy, I should have known."
Still, McElhinney says he doesn't hold any grudges against the showrunners for not telling him he would soon be out of a job. It was his own fault, he says, for assuming Barristan's story line in the books — he takes over in Meereen after Daenerys's departure — wouldn't be changed for television. "I was disappointed because I had enjoyed playing the part and I was looking forward to getting more meat in the part," he admitted. "I had dared to presume that I would at least go into season six. I obviously shouldn't have dared to presume. So be it. The deed is done." When you play a character on Game of Thrones, you win or you die.