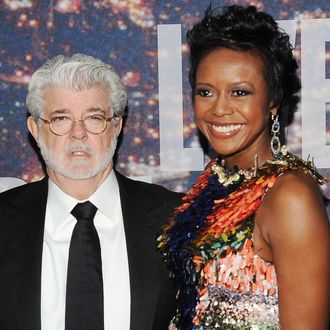 George Lucas and Mellody Hobson.
Photo: Splash News/Corbis
The George Lucas Family Foundation is giving a $10 million endowment to USC for students of color in the film school. The grant is aimed at recruiting students from underrepresented communities — particularly black and Latino ones — and represents the single largest donation for student support in the school's history, according to USC News. Starting in the fall of 2016, selected film students — both undergraduate and graduate — will be either George Lucas Scholars (for the boys) or Mellody Hobson scholars (for the girls). (Mellody Hobson is George Lucas's wife.) "Hispanic and African-American storytellers are underrepresented in the entertainment industry," said George Lucas, a USC alum. "It is Mellody's and my privilege to provide this assistance to qualified students who want to contribute their unique experience and talent to telling their stories." This isn't Lucas's first major gift: Back in 2006, he donated $175 million to USC's film school, of which $75 million was used to rebuild it. Fight on, Trojans!