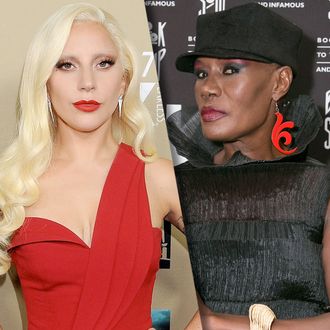 Lady Gaga and Grace Jones.
Photo: Getty Images
Grace Jones, high priestess of spilling tea, hasn't been mincing words on the press tour for her new memoir, I'll Never Write My Memoirs. She's already offered her judgment on Lady Gaga and other pop stars, calling them "middle of the road" copycats, and has criticized Kanye West for using Amber Rose to rip off her famous photos taken by Jean-Paul Goude. And it seems Jones is not done giving Gaga a piece of her mind. In another interview on SiriusXM, Jones recalls the first time she met Gaga in the flesh: "Gaga came to me, and I just could not find a soul. I come from Church — maybe that has something to do with it. I like to get to the soul of a person. I just didn't feel a soul."
Though Jones adds that Gaga "might have been freaked out with meeting me," their interactions never got any better. Jones says she met with Gaga through designer Philip Treacy three more times, each occurrence leaving a sour taste in her mouth. "I know Philip needed to make some money, but you know what, can you just wait until I finish my tour before you repeat what we are working on?" she says, referring to the headpieces he's created for Gaga. Maybe it's time Jones takes a page from Mariah's book of shade and just pretends she doesn't know these people. Gaga, who?