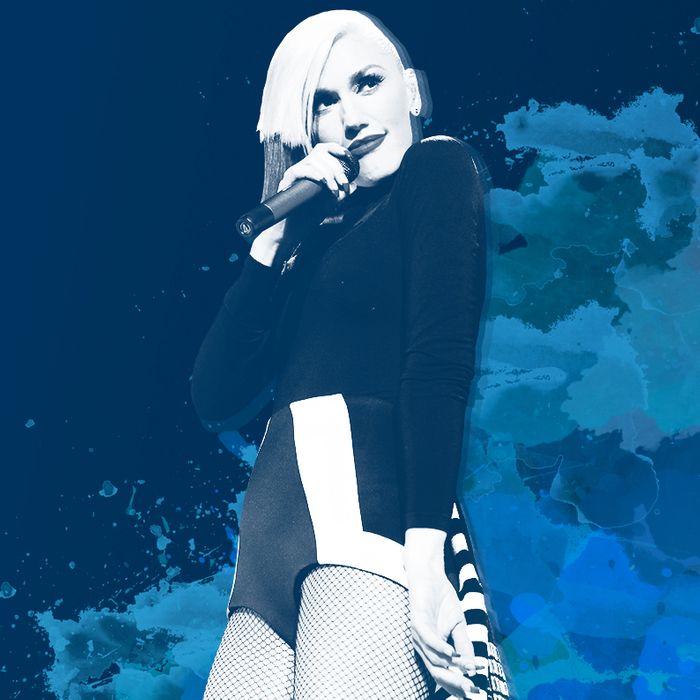 Photo-Illustration: Maya Robinson and Photo by Getty Images
Gwen Stefani wants to throw up bunny emoji. That's how happy she says she is right now. "Pure and honest": Those are the words she uses to describe her first new album since 2006, due out next year. On Saturday night at New York's Hammerstein Ballroom, Stefani previewed the LP by debuting "Used to Love You," a midtempo synth-pop ballad that includes the line, "You thought there were no boundaries," followed by an unambiguous scene of someone backing out of a driveway with a suitcase. In other words, 2016 is going to be Very Real for Stefani fans. Sporting a planetary blue-tip French manicure, sparkly bangles, perfectly coiffed hair, and delicately stained red lips, Vulture caught up with the fabulous 46-year-old in advance of the show to talk — among other things — comebacks, being a mom, why she hasn't yet collaborated with Blake Shelton, and poop emoji.
Changes in the pop music landscape
Last year Stefani released "Spark the Fire," a minimal, bass-forward single that failed to lay the groundwork for a splashy comeback. Similar to last year's "Baby Don't Lie," Jezebel called "Spark the Fire" "essentially a throwback jam," on which Stefani was "trying to bridge the difference between her super-kicky pop art persona of the early 2000s and the fact that her core cool fans have moved deeper into the internet, exploring nichier and/or more diasporic sounds." Stefani's last album was released in 2006, long before Taylor Swift became an entertainment juggernaut and 30-somethings were proud One Direction fans.
There's no question that times have changed, but does that make her nervous? "The first season I was on The Voice, I think there was something in me that was a little bit more open to caring about stuff like that, but I'm not there right now," she says. "I'm not really thinking about that. All I'm thinking about is that I made a record that is literally pure and honest and reflects exactly that I wanted to reflect. I haven't even considered what's out there or what's happening. It's weird to even think about that right now. I don't even know what's out there, I don't even care. It's fine. Whatever's happening, I just want to share the music and feel good about it."
Pharrell Williams, the prophet
Stefani's relationship with Pharrell goes back nearly 15 years, from when he teamed up with No Doubt on "Hella Good." Her co-host on The Voice has been a frequent collaborator ever since, producing "Spark the Fire" as well. "He's all over my show," Stefani says. "There are so many songs that we've done together. They're not just songs, they're huge moments. He's probably my favorite person I've ever collaborated with because he's very saintly, prophetlike. He has so much wisdom and so much positive energy and goodness, and he has a way of saying things where he really makes you think. So for me, he was definitely an angel sent to me to make me think. I love him."
On being a mom in show business and, uh, her abs
By now you know Gwen Stefani and Gavin Rossdale are getting a divorce after 13 years of marriage, and will share custody of their three children. When asked if the juggling act required of working moms, particularly those in the limelight, has gotten any easier over her tenure in the biz, Stefani says, somewhat predictably, "No, not at all," but that "things just work their way out the way they're supposed to." Guiding her, she says, is a belief in a master plan. "I'm following and I'm listening. I'm just praying, and all the time trying to find my way because it is super challenging. I don't know how it works out. Sometimes it just doesn't, you know what I mean?"
That said, she's not about to give anything up, juggling her duties as a co-host on The Voice, a singer working on her first album in nine years, and a mom. She recently took her kids to see the Sound of Music live in Los Angeles. "I was like, 'God, we've got to go to more live shows! This is so incredible! Suddenly you just want to do everything when you get a chance to. You just want to do it again. You want to do everything." Is "wanting to do everything" also the key to keeping her washboard abs? "Ha! My abs. I don't know about that. That's just years and years of working out, but I haven't worked out in a long time, though. I'm in a non-workout phase, but [during shows], I will be huffing and puffing."
The possibility of a new No Doubt album, and why she hasn't collaborated with Blake Shelton
Stefani has collaborated with all of her co-hosts on The Voice except for Blake Shelton, who is also getting a divorce. Is it because they're having an affair, as the tabloids would laughably have you believe? Nah. Stefani says it has more to do with style. "I have not collaborated with Blake, but he's country," she says. "But I don't know. He's so smart, and, interestingly, we have similar tastes, I've noticed. During the blinds [auditions] we have the same kind of voices that we like, and I know that he likes the same kind of music as me because we both like the '80s. It's weird." She doesn't know if a collaboration is in the future, and is equally vague about returning to the studio with No Doubt. "I'm doing this thing where I'm in the moment, not thinking ahead, because if you do live in the past or the future, then you're not experiencing this right here. I don't have plans for anything. I just know where I'm at right now, which is I just wrote a record unexpectedly, magically, like a blessing from God. I'm so grateful to be right where I'm at."
The necessity of emoji
"I just love emoji. I can't believe that I didn't make them up. It's a perfect language, a visual language of emotion. It's exactly what we needed. It's ageless, and anyone can do it. There are loads that are missing, but there needs to be, like, different poop emojis for different types of poops, you know what I mean? There needs to be more variety, but then again, I think there's something cool about being limited because then you can get more creative."