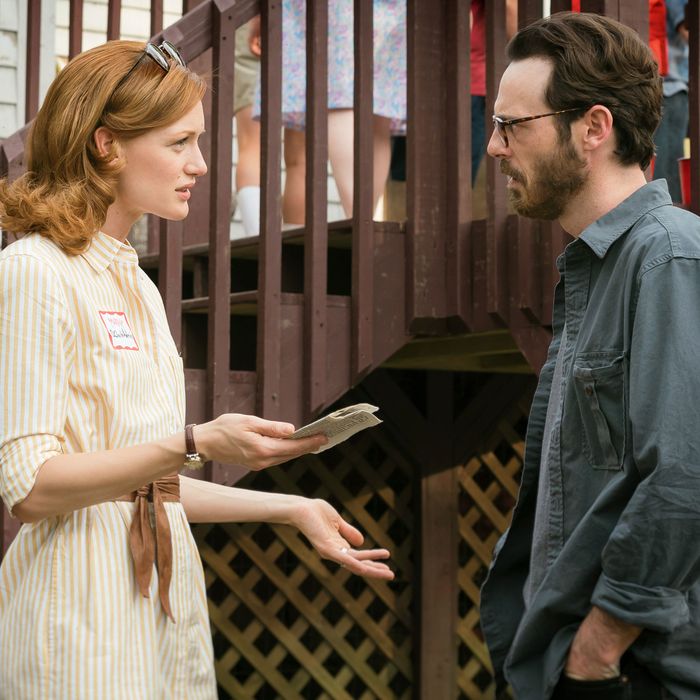 Kerry Bishé as Donna Clark and Scoot McNairy as Gordon Clark in Halt and Catch Fire.
Photo: Tina Rowden/AMC
Surprise! AMC's Halt and Catch Fire, which turned into something of a critical darling during its sophomore year, has been renewed for a third season. The network opted to keep the 1980s-set drama about the early days of computing and the internet alive even though it has been a consistently soft performer in the Nielsen ratings: The show's August finale drew just under 900,000 viewers, even after three days of DVR replays were tallied. But as we've reported here before, there's less of a direct line than ever between ratings and a show's potential lifespan. In the case of Halt, AMC and SundanceTV programming chief Joel Stillerman told Vulture the "critical momentum" the show picked up in season two, combined with solid "macroencomics" for the series, made a renewal possible. "We've built a business now where we're able to get to 'yes' [on a renewal] without being dependent on big ratings," he said.
While Stillerman declined to talk specifics about AMC's business model for Halt and Catch Fire, some of the math is pretty obvious. For one thing, AMC is the producer and sole owner of Halt, which allows it to keep all profits from international sales of the show and from digital syndication of the series to Netflix. (By contrast, AMC leased Breaking Bad from Sony Pictures TV, limiting that show's profit potential for the network.) "We could look at the metrics … through the full spectrum of ownership instead of just ratings," the exec explained. Not that ratings were completely irrelevant in the equation: While Halt may have a small audience, it boasts a strong concentration of upscale viewers, which are attractive to certain advertisers willing to pay a premium to reach that crowd. Finally, Halt also helps AMC maintain its image as a network willing to support prestige dramas, shows such as Mad Men, which prompt think pieces and (in theory) chase Emmys. Better Call Saul does that for AMC, of course, while also drawing great ratings. Halt, however, has the added benefit of not being tied to one of AMC's first-generation hits, in the way Saul and Fear the Walking Dead are.
Network executives don't often get on the phone to talk about renewing a show, particularly one whose ratings don't qualify it as hit. But Stillerman made it clear that, as he sees it, the season-three pickup for Halt is more than a simple renewal. "It was part of a plan," he said. "This is where we wanted to be in 2015, because you'd have to be oblivious to not see that there are more challenges now than there have ever been. Being able to renew Halt … is the embodiment of a lot of hard work that's gone on here to transition the business to a place that doesn't need huge ratings to sustain an individual show." When he mentions "hard work," Stillerman is mostly talking about AMC's financial model, which leans heavily on the network producing its shows in-house. But he also concedes that the network's monster success with The Walking Dead and spinoff Fear the Walking Dead, as well as the big ratings for Saul, are part of the equation, too. "It would be disingenuous to say those things don't matter," he said. "Of course they do … You can't nurture shows like Halt, or even contemplate mounting them in the first place, unless you first build the right framework to do them in." And yet, the AMC programming chief is equally insistent that Halt isn't some sort of charity case for the network. "It would be inaccurate to say if it wasn't for The Walking Dead, we could never get to 'yes' on Halt and Catch Fire," Stillerman said. "The show stands up on its own. And if it didn't, we might have made the same decisions. But it does. It's all been part of a larger goal of remaining an ad-supported, very eclectic network … For me, that's the biggest and happiest headline, other than we get to keep going on a show we all love."
As with the first two seasons, season three of Halt and Catch Fire will consist of ten episodes, with a premiere penciled in for next summer. There will be a behind-the-scenes change on the series, however. Co-creators and writers Christopher Cantwell and Christopher C. Rogers will now also serve as showrunners of the series, having previously ceded day-to-day control of the show to executive producer Jonathan Lisco. Stillerman says Lisco left of his own accord in "a completely amicable" fashion in order "to work on his passion project," the TNT pilot Animal Kingdom. "It'll be an absolutely seamless transition," Stillerman said, explaining that Cantwell and Rogers are "young writers" who are now ready to "step up to the head of the table." As for AMC's overall programming outlook for 2016 and beyond, in addition to Halt, the network will have new seasons of The Walking Dead, Fear the Walking Dead, Better Call Saul, Humans, Turn: Washington's Spies, and new series Preacher and Broke, while next month will see the arrival of marital arts hour Into the Badlands.