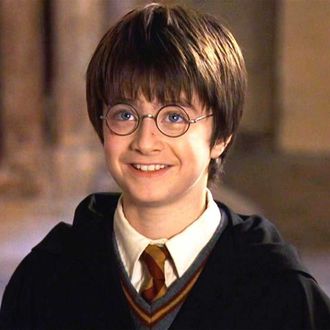 The Boy Who Lived will live on your iPhone.
Photo: Warner Brothers
Starting today, you'll be able to download the entire Harry Potter series directly to your iPhone (or any other Apple device) via the iBooks store for the first time ever. Previously, digital versions of the megaselling franchise were available exclusively through J.K. Rowling's Pottermore fan site. She's now partnered with Apple to bring all seven books to its library in a totally "enhanced" way. These digital versions will include annotations written by Rowling herself for this specific collaboration, as well as interactive animations (Rita Skeeter's enchanted quill will now scribble on the page), hundreds of illustrations, original typefaces (one named for Hagrid's three-headed dog, Fluffy), and custom-designed modern covers for each book. Check out a few of the new features below, and get busy making room on your phone!