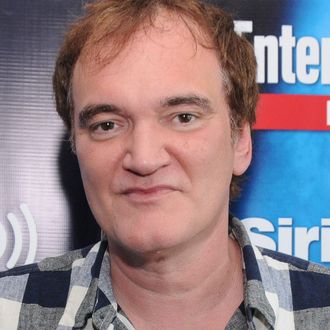 Quentin Tarantino.
Photo: Vivien Killilea/2015 Getty Images
Quentin Tarantino's Hateful Eight debuts Christmas Day to kick off a two-week road show, but the version that will initially be available will play a little differently than the more mainstream one that opens nationwide January 8. The road show will project via Ultra Panavision 70mm film, and will feature a longer, more stylized cut, according to Tarantino. "The roadshow version has an overture and an intermission, and it will be three hours, two minutes," he told Variety. "The multiplex version is about six minutes shorter, not counting the intermission time, which is about 12 minutes." Tarantino purposefully edited the two this way to suit their respective destinations (because he believes they'll likely attract a different kind of fan and moviegoer).

"[The road show version is] awesome in the bigness of 70, but sitting on your couch, maybe it's not so awesome. So I cut it up a little bit," he explained to the trade. "[The second version]'s a little less precious about itself." The difference will mainly manifest itself in a handful of sequences that the director says play in "big, long, cool, unblinking takes" in the 70mm iteration. In other words: Yes, technically, there will be two Hateful Eights for you to watch. For the casual moviegoer, this might not sound like much, but for the Tarantino superfans, this is all the more reason to make sure you see his latest Western-oriented flick as soon as it's available. Final dates and locations for Eight's initial limited engagement have yet to be announced, but Tarantino is reportedly aiming for it to screen in 100 theaters, with the hope that showing off the 70mm could inspire other filmmakers to premiere their new work similarly. What a guy.