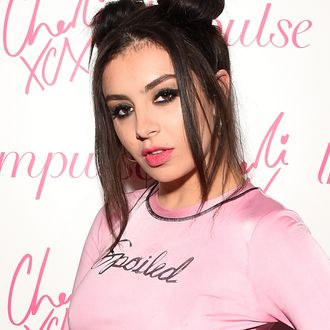 Talk about a banger.
Photo: David M. Benett/Getty Images
Tuesday afternoon, Charli XCX filled in for Julie Adenuga on Beats 1 Radio, where she let loose "Vroom Vroom," one of the new tracks she's been working on with "Lemonade" noise-pop producer SOPHIE for her PC Music–inspired third album. If you think you have a general understanding of Charli's sound off tracks like "Boom Clap" and her Iggy Azalea assist "Fancy," think again. Just as Charli proved she can own punk as easily as she does pop with last year's Snuffed by the Yakuza cover, she's now stretched her range even further in a direction that's about as large as pop gets. There's no describing the "Vroom Vroom" beat, other than to say it's titanic and unpredictable, like a Dr. Dre production on a sugar high that in the hands of anyone other than Charli would've been overpowering.
Charli devours it, going full-throttle over the verses with stadium stomp fury until SOPHIE throws her a curveball about 40 seconds in, forcing her to flutter over a lusher, finger-snapping chorus that's impossibly catchy ("All my life, I've been waiting for a good time, a good time / So let me riiiiide, let me ride, let me ride"), even more than "Fancy." She never once loses her way along the hurry-up-and-wait speed of the production, making for a dizzying head rush that's one of the best songs Charli's ever done. She says she wants Paris Hilton in the video, because Charli ran out of fucks to give a long time ago. Next year can't come fast enough.