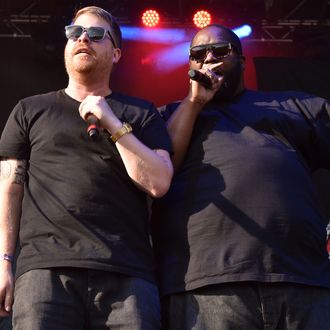 RTJ can do no wrong.
Photo: C Flanigan/Getty Images
To close out the Adult Swim Singles series (which brought us gems from Chromatics and Danny Brown), Run the Jewels have shared a fiery new song, "Rubble Kings Theme (Dynamite)," for the documentary Rubble Kings (streaming now on Netflix), which explores how the gang culture that ran New York City's streets from the late '60s into the '70s laid the groundwork for hip-hop's birth. There are no cat sounds to be heard here; instead, what you get is Killer Mike and El-P in typical take-no-prisoners form over a grizzly Little Shalimar–produced beat. "I am done asking and pleading and begging you recognize I am alive," El-P growls, in an especially fearless performance. Also featured on the doc's soundtrack are Bun B, Mr. Muthafuckin eXquire, and Ka, so it's probably worth a listen.