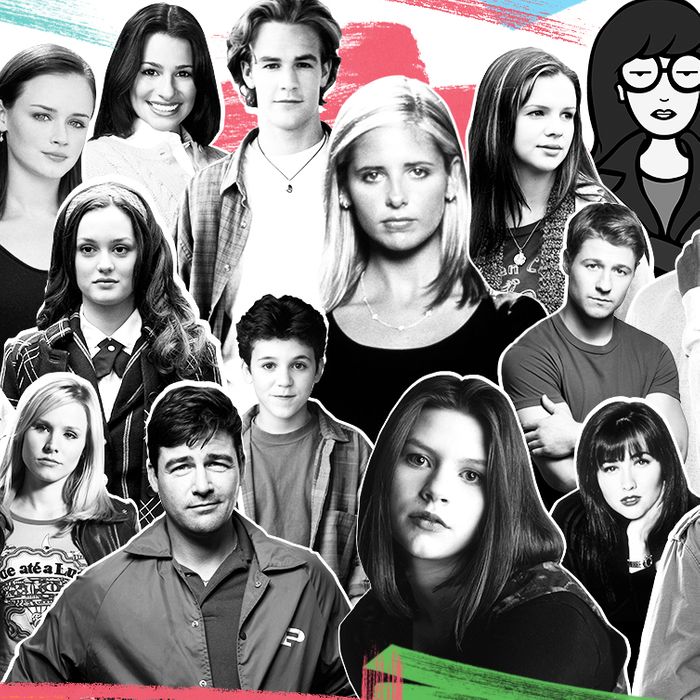 Photo-Illustration: Vulture
High-school shows occupy a special part of the TV landscape: They can be more earnest than dramas about adults, since the teenage protagonists are presumed to still be learning formative life lessons — and much more emotional, since teens are radiating feelings all the damn time. There's room for small moments to become sources of huge drama (and comedy) because everything feels so high-stakes. Something as simple as a note getting passed to the correct recipient takes on epic significance, and a coach's accidental malapropisms can be a signal that the whole world is doomed.
While youth-oriented shows have been around for a long time, Saved by the Bell (1989) ushered in a new era of teen-centric programming — and once Fox took things to prime time with Beverly Hills, 90210, the high-school show became even more solidified as part of the mainstream landscape. The WB, UPN, and eventually the CW became high-school-show factories, but all the networks got in on the action: ABC was home to My So-Called Life, NBC to Freaks and Geeks, CBS to Joan of Arcadia, Fox to The O.C., among many others. Like its brethren the YA novel, teen programming is often ignored or minimized, especially when its stories revolve around young women. And also like YA literature, teen TV has in fact given us some of the most enduring characters and touchstone stories the medium has ever produced — an idea that's gaining traction and legitimacy with every passing season.
Vulture's High-School-TV Showdown is intended to honor the greats. How do you winnow so many good shows to the 16 best? Well, it's hard. We considered overall quality, cultural relevance, influence within its genre, and what kind of place the show occupies in fans' hearts — is this a high-school show that is treasured? While Dawson's Creek has its shortcomings, it's also woven into the pop fabric in a way few other shows ever have been. Future civilizations will understand Gen Y and beyond in part based on how completely and pervasively they knew The Fresh Prince of Bel-Air's theme song. News that Gilmore Girls is going to be revived on Netflix only clarifies how permanent a position these shows have in society.
But, as with any contest, some contenders never even made it to the ring. Sorry, One Tree Hill: Your gonzo approach is fascinating, but ultimately not all that good. Blossom and Moesha, you had your moments, but there simply isn't room for everyone. TGIF shows were considered too kid-oriented. In the interest of simplicity, Vulture's bracket is limited to U.S. shows, but consider this the moment to honor Degrassi, Skins, My Mad Fat Diary, Misfits, Some Girls, and Puberty Blues. We stuck to scripted programming, though we salute the achievements of Laguna Beach, Teen Mom, The Paper, and American High. We also decided to focus on shows that spent at least some time in high school, which tragically meant letting go of shows like Felicity, A Different World, Greek, The L.A. Complex, The Middleman, and Undeclared.
Each day for the next three weeks, a different esteemed judge — you can see the roster on the bracket below — will render a considered verdict on a single match-up, culminating in a final showdown on November 13 that will be arbitrated by New York Magazine TV critic Matt Zoller Seitz. While that unfolds, you — Vulture readers, former and current high-school students — can visit facebook.com/vulture daily to weigh in on which show should win.
In the meantime, grab your backpack, sulk toward your locker, make eyes at your crush, stress out about your best friend's sudden indifference, reject but then confide in your mother, find a way to tarnish your father's image in your eyes but then discover that you see him in a new light as a person, and then contemplate the pluses and minuses of a First Time. Welcome to the High-School-TV Showdown.