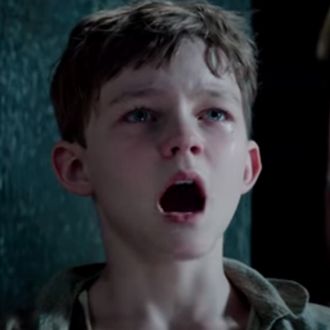 When we're introduced to the pirates in Joe Wright's mega-budget Peter Pan origin story, the patch-eyed punks come out chanting a bizarre cover of Nirvana's iconic "Smells Like Teen Spirit." Why? You'll have to ask Hugh Jackman, but it seems Pan is more stupid than contagious and moviegoers were not entertained. The ($150 million) movie made $15.5 million on its opening weekend, trailing behind Matt Damon's still-soaring Martian ($37 million this weekend for a $108.7 two-week domestic total) and Adam Sandler's surprisingly successful Hotel Transylvania 2 (adding $20.3 million to a now $116.8 million domestic haul).
More people tuned in to Christopher Walken's soporific and campy turn as a live-TV Captain Hook than Jackman's. It looks like Pan may join the under-performing echelon of Jupiter Ascending, Tomorrowland, and Fantastic Four, all of which bombed pretty hard at the box office. Also under-performing, Robert Zemeckis's The Walk stumbled as it expanded to 2,515 locations and only made $3.7 million, for a paltry cume of $6.4 million, the seventh-worst bow for a film playing in more than 2,500 locations. On the other hand, The Martian only dropped 32 percent in its second week, and is now almost $12 million ahead of where Christopher Nolan's Interstellar was a year ago. It may usurp The Bourne Ultimatum ($227.4), Damon's highest-grossing film. The rest of this weekend's top-five includes The Intern with $8.6 million (a $49.5 million domestic cume) and Sicario with $7.3 million ($26.7 million domestic cume).
Steve Jobs, the Aaron Sorkin-penned, Danny Boyle-directed biopic depicting a fairly fictionalized triptych about the late Apple icon, made $521,000 on four screens, and earned mostly good reviews for Sorkin's serpentine dialogue, Boyle's deft direction, and the combined prowess of Michael Fassbender and Kate Winslet, who manage to spit out Sorkin's fire-hose monologues and exchange whiplash-inducing verbal bouts with aplomb.