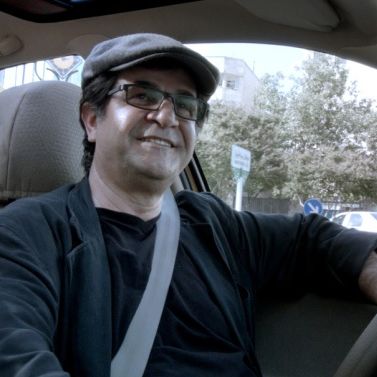 Is the correct title for Iranian director Jafar Panahi's latest film just Taxi, or Jafar Panahi's Taxi? That ambiguity speaks to the movie's beguiling, quietly revolutionary nature. On one level, this is a film about Panahi driving a taxi — which may not sound like much, but feels like an act of civil disobedience when you consider the fact that his last two, This is Not a Film and Closed Curtain, were made under house arrest. Panahi is still a marked man; the Iranian government's 20-year filmmaking ban against him continues to stand, and he has very limited freedom of movement. He was unable to travel to Germany to pick up the Golden Bear that Taxi won at Berlin earlier this year. "The Ministry of Islamic Guidance approves the credits of all distributable films," reads the onscreen text at the end of Taxi. "Despite my heartfelt wish, this film has no credits." Which brings us to the second reason for that beautifully ambiguous possessive: We have no real idea who any of the other people who worked on this film are. Taxi is Jafar Panahi's, and his alone.
Panahi was for many years one of Iranian cinema's brightest shining lights. His highly realist films lay bare the country's iniquities — particularly toward women — and often ran afoul of authorities. But they also showed a complex, bustling society, far from the oppressive gloom many of us in the West might have imagined. Panahi's characters are determined, resourceful, unflagging; they find ways around laws and tradition and outdated social mores. (His masterpiece, Offside, follows a group of girls caught trying to attend a forbidden World Cup qualifying match while disguised as men.)
But in recent years, Panahi has effectively become one of his own characters, having been imprisoned in 2010, then placed under house arrest; the haunting, spare films he's made during this time have toyed with documentary and meta-narrative, with the director regularly putting himself in front of the camera. Taxi has a similarly self-reflective quality. As we watch through a camera mounted on the dashboard, Panahi's shared cab takes in a number of different passengers from a cross-section of society.
It may feel like a documentary at first, but it soon becomes clear that these characters have been placed here to reveal the ways that ordinary Iranians are making their way around the carefully circumscribed parameters of what is legal and appropriate. Two strangers debate crime, the death penalty, and the justice of Sharia law. A bootleg DVD merchant defends the cultural validity of his activity. ("They don't show these films in Iran! Without me, no more Woody Allen!") A woman and a wounded man, having survived a horrible motorcycle accident, rush to the hospital while trying to film a last will and testament, in order to keep all his possessions from going to his brothers if he dies. Two elderly women try to rush a bowl of goldfish to a precisely timed religious ritual. The director's niece shows up to discuss her class assignment to make a "screenable" movie, and we know what that means: No politics, no contact between men and women, no gritty realism, and so on and so forth – all the things that landed her beloved uncle in jail. Meanwhile, it's a running gag throughout the film that Panahi is a terrible driver, and doesn't know where he's going; he needs these people to show him the way.
Taxi is a strange movie. These are nonprofessional actors, and the film veers between documentary realism and playful staginess. People will look at the dashboard camera, or address it, or consciously ignore it, or grab at it. Panahi himself often keeps an amiable half-grin on his face — even during the film's ostensibly "intense" moments. How do we read that grin? Maybe it's just that he's a bad actor, and can't keep from smiling. Maybe it's that he enjoys the freedom of being able to keep making films. Or maybe — just maybe — he's reveling in the humanity that drifts through his cab, and his film. His is the smile of a quiet chronicler who has become a world-class ringmaster.