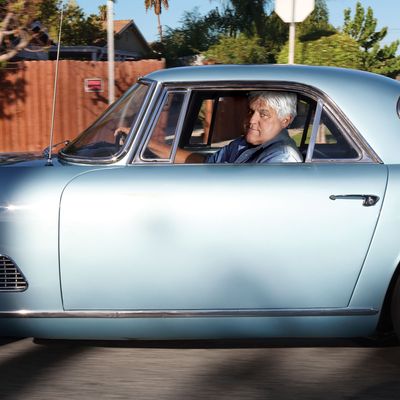 Jay Leno's Garage premieres October 7 on CNBC.
Photo: Andrew Bush
Jay Leno was driving through Coldwater Canyon recently when he spotted a guy with a classic L.A. problem: His brand-new BMW had a flat. He pulled over to help, which mostly consisted of convincing the owner that he did not, in fact, need to take the car to the dealer. "We changed the tire by the side of the road," Leno says. "He thought doing that was the coolest thing."
It's a few weeks before the premiere of his new CNBC car-talk, stunts, and auto-investments show, Jay Leno's Garage, and we're at the warehouse that's home to the 65-year-old's 140 automobiles and 117 motorcycles. "You can't come back with the same thing," the former Tonight Show host says, from behind the wheel of a red 1968 Lamborghini Espada, "and I figured I'd want to do a car show." He eases alongside a yellow 1967 Lamborghini Miura. Then we test out a 2015 Tesla Model S P90D, and the topic turns to Francis Ford Coppola, a future guest on Jay Leno's Garage. "His middle name is for Henry Ford," Leno says. He gives another factoid. "The horse [on the Ford Mustang logo] was originally facing right, but Lee Iacocca said, 'No. Horatio Alger: Go West, young man. I want the horse facing the other way.' " Then he floors it.
*This article appears in the October 5, 2015 issue of New York Magazine.