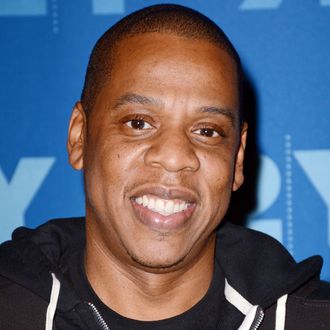 Jay Z's sticking with the borough that raised him.
Photo: Derek Storm/Corbis
As of today, Tidal will officially have a piece of the Barclays Center named after it. Those are the terms of a landmark new "content deal" Jay Z has struck between his music-streaming service and the sports and concert venue, reports Billboard. Effective immediately, the theater known as the Cushman & Wakefield Theater for the last three years has been renamed the Tidal Theater, where it will showcase a number of artists curated through Tidal Discovery, some of which took the stage at Tidal X's 1020 benefit concert held at Barclays last week. To gauge how successful that show ended up being for both Tidal and Barclays, the company says it raised nearly $1.5 million for charity, while Billboard reports that twice the amount of people streamed the concert than they did this year's Super Bowl — upwards of 3.3 million.
Tidal plans to host at least eight music events per year in the theater, along with "other events." Earlier this year, Jay Z's Roc Nation signed a multi-year deal with the Barclays Center to be the home of a number of his entertainment company's events, including those from Tidal. (Jay Z previously owned a stake in the Barclays Center before selling it in 2013, when he launched a sports agency under Roc Nation.) In other words, Tidal's unofficial headquarters are coming to the Brooklyn boy's favorite borough.