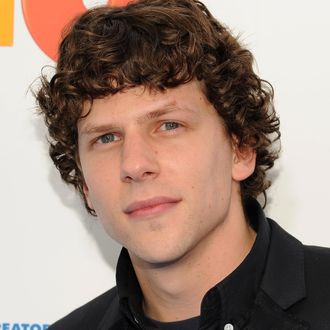 Photo: John Sciulli/Getty Images
Oscar-nominated actor and playwright Jesse Eisenberg is constantly searching for the oddest parts of humanity.
"I try to have the most unusual experiences I can possibly have," he said in a conversation with Susan Morrison at the New Yorker Festival on Saturday evening. "If there's a strange man on the street I wanna follow him. If I'm gonna be writing about something, it's going to be unusual, it's going to be something you don't see a lot as opposed to writing some sort of romantic comedy."
For his writing, Eisenberg is his own most interesting character study. He's written three plays whose dark characters are based on what he says are versions of himself. "Writing is sometimes a cathartic experience and writing comes from a need to express something that can't be expressed in any other way," he said.
He added that the characters he creates and plays on stage are "self-hating, awful people." His plays often feature stoners, which is his way of commenting on human productivity. "I think it's really unproductive [to be stoned], it seems like a very selfish thing to do. I've never seen someone stoned and helping," he said. "No one says, oh, let's get stoned and help Jeff move."
For his acting roles, he draws a lot of material from people in real life. In preparation for playing Mark Zuckerberg in The Social Network, he took fencing lessons after reading Zuckerberg's college essay on the sport to learn the "uptight" stance of the social media giant. "That advantage of playing a real person is that they do the homework for you in a way," he said.
For his newest role as Lex Luthor in next year's Batman v. Superman, he read comic books to prepare, but hadn't read them much beforehand, something he thinks was probably for the best or he might have become the "obsequious comic book fan" who was "too excited to stop smiling" while filming. Nonetheless he was happy to have a lot of material to work with.
"There is this trove of stuff about this guy. A lot of it's repetitive, like he always winds up on the roof of his building giving some faux benevolent talk about how he's going to change the city," he explained. "It's fun to take that campy cartoony stuff and try to put it into a real person and try to reconcile the two."
Eisenberg also insisted his Luthor would be very different from Gene Hackman's classic portrayal in the Christopher Reeve films, noting that "this movie is so different … it has real psychological underpinnings, and this movie character feels like a real scary person."
But don't be mistaken, Eisenberg claims he doesn't have a lot going on himself.
"I'm an actor and I'm not that interesting," he said. "That's why we play other people."