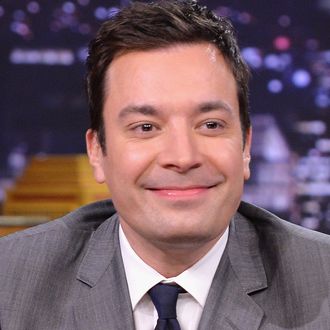 Jimmy Fallon.
Photo: Mike Coppola/2014 NBCUniversal Media, LLC
As far as late-night-war superlatives go, Jimmy Fallon reigns as TV's most freak-accident-prone-but-indestructible host. The face of the Tonight Show over the weekend visited Cambridge, where he received The Harvard Lampoon's Elmer Award for excellence in humor — and injured his other hand in the process. Don't worry, though. On the bright side: He's okay and it wasn't as traumatic as the finger incident! Also, because it was an event in the name of comedy, someone was on hand to catch everything on camera and come up with a Jimmy Fallin' joke:
As part of the festivities Saturday, Fallon, a.k.a. the university's newly anointed "Emperor of Comedy," had paraded through Harvard Square, endured a roast, and received his honors, which included a medallion, fake diploma, and check for 85 cents. While partying, however, Fallon, bottle of Jägermeister in hand, tripped over one of the attendees. "[The accident] was all part of the celebration in the street and some random girl kneeled down in front of him abruptly as he was turning around and he tripped over her because he didn't see her," a source explained to People. Fallon left for Massachusetts General Hospital, where he was quickly bandaged up and then evidently released to return and revel, double-fisting hand casts:
Fortunately, Fallon noted via Instagram that the whole smashed-bottle thing truly was a quick fix, writing: "Nothing that a few band aids couldn't fix," because he may or may not be turning into X-Men's Wolverine — just with way less adamantium:
His year as Mr. Bean IRL continues (he has options for Halloween). So please reset your days-since-last-Fallon-injury signs to zero, and feel better soon, Jimmy!