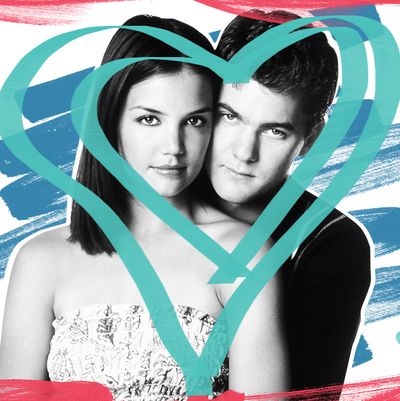 Photo-Illustration: Vulture
For the next three weeks, Vulture is holding a High-School-TV Showdown to determine the greatest teen show of the past 30 years. We began with the Fug Girls picking Buffy the Vampire Slayer over Dawson's Creek. In honor of today's loser, Vulture caught up with former Dawson's showrunner Greg Berlanti to get the backstory on how Joey and Pacey's romance first began, and why they were paired together in the series finale 12 years ago. 

The summer of 2003 began with a cataclysmic TV event: Dawson's Creek dared to end its six-year run with Joey Potter (Katie Holmes) choosing to spend her life with Pacey Witter (Joshua Jackson), not Dawson Leery (James Van Der Beek).
It wasn't exactly shocking — the road had been paved — but it was enough of a twist to surprise, considering the expectations set up by the mere title, and the show's continued affirmation that Joey and Dawson were soul mates.
So how did Joey and Pacey's relationship first originate, and why did they wind up a pair? Creator Kevin Williamson, who modeled Dawson's character after himself, had always envisioned Dawson and Joey together come series' end. When Williamson left the show at the end of the second season to launch ABC's short-lived Wasteland, the writers were onboard with Joey and Dawson being the show's central romance, said now-prolific TV producer Greg Berlanti (Supergirl, The Flash, Arrow, Legends of Tomorrow, Blindspot), who began his career on Dawson's as a writer.
But the teen coming-of-age drama about four high-school friends in a fictional Cape Cod town hit a slump in season three. Fighting to save it, the now-defunct WB network promoted the 28-year-old Berlanti, who before then had never worked in television, to run Dawson's Creek. "I was just a touch older than the cast. When I was just a writer on the show, we went from partying and hanging out together to, suddenly, I was their showrunner," Berlanti recounted. "And what was so nice about them was that they let me grow up into that job, and they didn't hold it against me that I couldn't be the staff writer that went out and got drunk with them anymore."
Williamson's departure destabilized the show, Berlanti said: "We had to turn our own ground or it wasn't going to work." When the network asked him what he would do to fix the show, he knew immediately what he wanted.
"I would get Pacey with Joey and have a King Arthur–esque story — Dawson being King Arthur — exploring what happens when Lancelot and Guinevere fall in love," Berlanti said. "[Joey and Pacey] always had such wonderful chemistry, the two of them — they have a Tracy and Hepburn quality that I liked writing for."
The writers' room was reinvigorated by the new direction. "It was also sheer young, dumb naïveté" on their part as writers, Berlanti added. "We just wanted to write what we wanted to see — none of us thought very far ahead at that time of what the implication would be. Part of the fun of the show, and the success of it, was that we really were figuring it out as we went along, pretty much the way a couple figures themselves out as they go along. It was always very much a thing of passion."
Berlanti began building the romance midway through season three, pulling the trigger in episode 17, "Cinderella Story," where Pacey impulsively kisses Joey.
Joey and Pacey deal with the fallout of Dawson learning about their relationship (which gifted us with Dawson's cry face) in some of the show's best-received episodes ("Stolen Kisses," "The Anti-Prom," "True Love") before leaving for a summer-long boating adventure together. They first sleep together in season four's "A Winter's Tale," while on a ski trip. Berlanti recalls Holmes and Jackson, who were briefly in an offscreen relationship during the show's run, being excited by the story line. "It was something different and surprising because I don't think people thought we were ever going to go there," he explained. "Everyone was in a groove after season three. Everyone was excited about the twists and turns of that narrative."
The relationship between the girl next door and the sarcastic romantic boosted ratings and rallied viewers. When Joey and Pacey sailed off on his boat, True Love, in the third season finale, it predated the shipping wars. Viewers couldn't hashtag reactions on Twitter or create memes to memorialize favorite moments. But many gathered to dissect the Dawson/Joey/Pacey triangle in fan forums on Dawson's Wrap, a website that pioneered the TV recap and later morphed into the now-shuttered Television Without Pity. ("These posts went on for thousands of words, long past the attention span of today's internet reader," a former Dawson's Wrap reader wrote. "As I neared the end of each one, I'd consciously try to slow down, savor it, make this recap last.")
During much of the fourth season, Joey and Pacey are happily in love, but by the time they reach prom, the writers stir things up again: Pacey, feeling insecure about Joey's success and intelligence, breaks up with her.
The season ends with Pacey at sea again, and Joey and Dawson kissing. It also ends with Berlanti's resignation; he left to create his first show, Everwood, but remained a consultant in season five, when the gang heads off to college, drifting into new relationships.  Although some viewers ditched the show as it transitioned its characters into to adulthood, ratings remained steady.
Pacey and Joey reconnect briefly, midway through the show's final season in "Castaway," when the two get stuck in a Kmart together overnight. As the series finale approached, Warner Bros. Television executives toyed with the idea of asking Williamson to return and write what happens to the characters five years into the future (the show's final season was set during their sophomore year of college). Williamson agreed, and Berlanti signed on to co-write the two-part finale with him and writer/producer Maggie Friedman. It became the series' highest-rated episode, bringing in 7.8 million viewers.
In the finale's time-jump, Joey is a book editor in New York City, living with a new boyfriend, while Dawson is in Hollywood creating his first TV show, The Creek. They all return home for a wedding, and Joey's feelings for her childhood sweethearts reemerge. Williamson planned to see through his original intention: ending the series with Joey and Dawson together.
"Kevin had been away from the show and hadn't been there for any of the Joey and Pacey stuff at all," Berlanti said. "He had always envisioned the show as one thing — Joey and Dawson — and I think he always thought he had to write that. As we were breaking the story, Kevin felt like the rest of the show had happened without him, [and it] had gone in this [other] direction. There's a scene in the end, where there's a phone call and the three of them are all talking — Dawson is in his office in Hollywood, Joey and Pacey are together. [Williamson] decided in his own genius way to go that way."
What was more important to Williamson, Berlanti added, was that Dawson be successful in his aspirations. "That's what he chose to dramatize in the end. To him, they all got something they wanted, and in some way each didn't get something they wanted, which was very poignant," Berlanti said, admitting he cried as he wrote some of the final scenes for the characters. Except for one. "He killed Jen!"