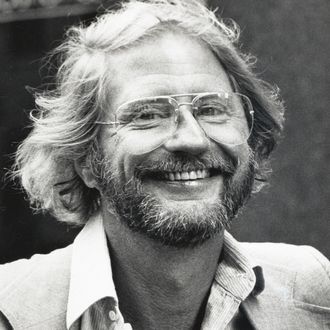 RIP.
Photo: Courtesy of John Berg/Cooper Union
John Berg, the legendary art director, died on Sunday at 83 from pneumonia, reports the New York Times. Berg leaves behind a legacy that includes some of music history's most famous album covers — spanning more than 5,000 in total — which earned him 29 Grammy nominations, including four wins for his work on Bob Dylan's Greatest Hits, Barbra Streisand's The Barbra Streisand Album, Chicago's Chicago X, and Thelonious Monk's Underground.
Berg served as art director for Columbia Records, curating all of the artwork for the label's high-profile roster of artists between 1961 and his retirement in 1985. During that tenure, he was responsible for bringing on some of the best photographers and designers of that time — Milton Glaser, Richard Avedon, Jerry Schatzberg — to work with the label's most prolific talent. He's credited with being an innovator of album packaging, having commissioned a psychedelic poster of Dylan from Glaser to complement the backlit performance photo taken by Rowland Scherman for 1967's Greatest Hits.
Berg famously advised Bruce Springsteen not to use a John Updike-esque portrait for the cover of 1975's Born to Run, instead preferring a more candid snapshot, photographed by Eric Meola, of The Boss warmly leaning on the shoulder of the late saxophonist Clarence Clemons as a fold-out cover. Both Springsteen and the label caved — despite the added cost — and it has since become one of Berg's most iconic covers. Reflecting on his vision for that cover, Berg told his alma mater Cooper Union in 2013, "One of my unfailing good traits is I will actually look at your pictures. All of them. I mean relentlessly. I will find stuff the photographer never knew was there."
Below, we remember Berg with 20 of his most famous Grammy-nominated album artworks.