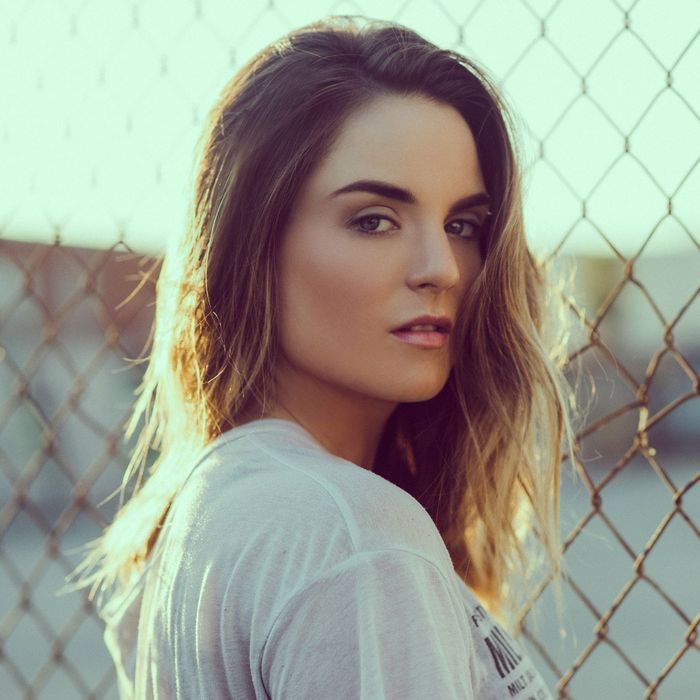 "I'd be lying if I said, Oh, no, that doesn't affect me at all."
In 2014, pop star JoJo broke free from her contract with Blackground Records, ending a Behind the Music–worthy, nearly-decade-long legal battle with the label that signed her when she was just 12. Those following her story know it's an extreme example of music's convoluted business practices, but sadly, not all that rare in the major label world, with everyone from Big Boi to, most recently, Kesha having to fight for their right to release.

At 13, JoJo became the youngest solo artist in Billboard history to score a No. 1 hit with 2004's "Leave (Get Out)," but her career stalled for more than seven years, when her label repeatedly failed to release the follow-up to her (aptly named) 2006 sophomore LP, The High Road, while also refusing to let her out of her seven-album record deal. Now, at 24, JoJo's back with a new label (Atlantic Records), a tringle (the term she coined for her new three-song single, led by the should-be hit "When Love Hurts"), a headlining tour, and her third album, finally out next year. Vulture caught up with the singer ahead of her November 3 show at New York City's Webster Hall for a candid conversation on how she's risen from the ashes of an industry that burned her. Here's JoJo, in her own words.
I was 12, and I'd been offered production deals before, from the age of 9. So my mom was like, "Okay, at 12, maybe it's time." We really felt comfortable with Blackground, like this was our family. That was important to us because it's just me and mom, so family was something we were really looking for. They appealed to that sense within us. I signed the deal in California and went skipping down Sunset Boulevard 'cause we're like, "Our lives are gonna change! I'm gonna have my own bedroom. I'm gonna be able to buy you a house one day, Mom." That's what we wanted. My mom was by no means a stage mom, it was just her and me.
Then the label moved us from L.A. to New Jersey, and I recorded my debut album there. It was a dream come true. I had signed a seven-album deal, and I figured I could put out an album every year or two years. I wanted to keep making music with my family, so I didn't see it as a huge commitment. And I also believed through conversation and an understanding that if it wasn't working out between us, it would be okay and we could go our separate ways. We were assured that the deal was very normal, and the lawyer that I was with at the time said, "This is a great deal, you shouldn't look into it any deeper than what it is. You're gonna be protected." We didn't know anything. We thought, You know more than us, so you must be right.
Within the first few months of signing, I started hearing horror stories from other artists who used to be signed to the label. That was the first inclination that things were not as they seemed. Then people who worked at the company started warning us, so we looked into the history of the company and were like, "Daaamn, what did we get ourselves into?" Things started out cool because Blackground was distributed through Universal, which is a very powerful company, and they were looking to break a young female artist. The timing was really right for me to shine.
But then I started getting the sense that things were not right after I did the second album. Vincent Herbert, who had signed me through a production deal to Blackground, left, and I never heard from him again until I was maybe 17 or 18. I really felt like he was my brother —  I don't have any siblings — so that was devastating to me. After he left, then a lot of trash-talking started. The president of Blackground started talking a lot of shit about him, as I've come to find out a lot later. Money, greed, ego, and scare tactics were at play that even to this day, at 24, is a little confusing. It was particularly confusing at 16.
Then Blackground lost distribution at Interscope [Blackground, it should be noted, changed distribution every few years]. I'm not gonna say why because I just can't. But I have my theories, and there are facts to back them up. Blackground was working out a deal with 40 [Noah Shebib], Drake's producer, who was doing an Aaliyah album with Drake at the time [Aaliyah was Blackground's first signee]. As a result of Blackground's relationship with 40 and OVO, I did songs with 40, like "Demonstrate," and the idea was that we would grow an album out of that. I was like, "If for some reason you don't want to put out the other stuff I've done, fine. I'll take the [loss] on that and go with this. Let's just put out music." And I loved what I was doing with that sound.
I never got a concrete explanation for what happened. There wasn't a lot of communication, just a lot of lawyer talk at this point. Because when Blackground acquired distribution [through Interscope], it had already taken a very long time. So I was already feeling a certain way about that. And then, when they lost it, it just looked like there was such instability, and they'd already been to every major distributor since the beginning of their career. They essentially burned a lot of bridges, and I didn't want to keep being a casualty of that.
It would've been a lot easier, almost, if they'd just said, "We hate your new music, we think it sucks." Because then I could've been like, "Okay, tell me what sucks about it, what you don't like, and let's fucking get back in there and do something." My work ethic has never been the issue.
I can understand and respect why artists like Angel Haze self-release their albums when their labels won't. But I don't want to seem anti-label. I know I could've done that, but I don't think it would've gotten the type of response that I wanted. I knew that since I had been fighting against this for so long, I wanted to continue to take the high road. I also think it's unfair to all the producers and writers I worked with to just put the shit out, because they deserve to be compensated, just like I do. If we go into it with the understanding that we're gonna put this shit out for free, I'm so with that; I wanna do that. Like, "This is hip-hop" — but even pop is hip-hop now in this way because we're all putting stuff out for free. There's nothing wrong with that [JoJo released two free mixtapes while in label purgatory, 2010's Can't Take That Away From Me and 2012's Agápe]. But I was recording all this stuff under the assumption that it was gonna come out officially, so I didn't feel like leaking it was the right thing to do.

I love Chance the Rapper's ability to stay independent, but that said, I'm not a rapper. I'm in pop music, and I still think having the support of a major label is really beneficial. It felt like I was fighting and doing it on my own for a while, yet I had two really successful singles under my belt and I had sold millions of albums. And dammit, I wanted to do that again. I took that into consideration in not going independent, because I knew it would be even more of an uphill climb. I want all systems to be a go, but the idea of being locked into another system was scary. It still is. I'd be lying if I said, Oh, no, that doesn't affect me at all. I still have a little PTSD. But I'm not a little girl who's looking for family from my label anymore.
I still stand behind the way I handled things with Blackground because I didn't trash anybody. And I'm certainly not the only person who's struggled and had to file a lawsuit: Kesha's case seems really messed up and multifaceted. It's important for her to know that there are people on the other side that are rooting for her and want her to keep going. I was 12 when I got into my contract; my mom signed it for me and didn't have any experience in the industry. Would I have done anything differently? How could I have? I would've toured more, but I was under 18, and my mom hated the industry so much that she made sure I graduated with a 4.0 and could go to college if I wanted. I looked at it as this: I love making music, this is already who I am, and what means the most to me, so I need to make a life for myself and for the future of my family. I know that sounds really serious, but it is.
Thankfully, I'm 24 now, and in a position where I've had this experience, but I'm still really young. I still have people who want to hear me, which is a pretty unique position to be in after this journey. I think this tringle represents me getting my feet wet again in the pool that is the music world.