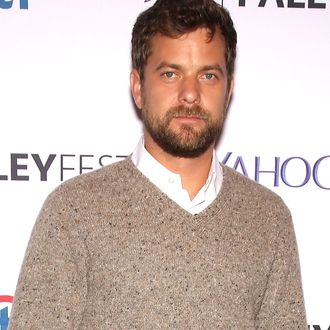 Joshua Jackson.
Photo: Paul Zimmerman/WireImages
In this season of Showtime's The Affair, the story is told from four perspectives — two more than in last season, meaning we're getting deeper inside the mind of Cole (Joshua Jackson) than ever before. "The best way to approach the show is with the idea that none of the characters are lying to you," Jackson said Monday, before the show's PaleyFest panel. "They may be lying to themselves — but everybody thinks that the story they're telling is the truth, even though we all have a tendency, to varying degrees, to remember ourselves either slightly better or slightly worse than we were."
The Affair's most recent episode saw Cole's character pay a visit to his estranged wife, Alison (Ruth Wilson), from both Alison's and Cole's perspectives. In hers, he was verging on threatening; in his, he was seeking closure. Which one was closer to the truth? "From the internal perspective of both of those characters, they totally think that they're telling the truth because they're not trying to prove anything to the audience," Jackson said. "That's the conceit of the show. It's why our show is good when it's good. It challenges the audience in a way that's really unsettling, right? We're telling you that we're not making the judgment call for you of what's right and what's wrong." During the panel itself (which followed a screening of this season's third episode), Jackson added that Cole's vision of the events wasn't completely rosy, citing his drunk driving and cocaine use. "Did the blow job stay in?" he joked. ("Is there a director's cut?" Dominic West quipped.)
However you interpret those scenes, the rest of the season promises less Cole-and-Alison time. "It's a bummer not to be working with [Wilson] as much," Jackson said. "But we have Catalina Moreno on the show this year, who's also fantastic, and I count myself very lucky to be amongst this gang." Creator Sarah Treem, who was also on hand for the panel, shed light on the decision to expand from two perspectives to four, noting: "At a certain point it just became kind of obvious that we had such incredible actors that the characters were getting incredibly rich even within the limited POVs, naturally, and so at some point during the first season it kind of became a given that we would expand." She added that she is, however, stopping at four.
Treem also addressed how people have reacted to the show thus far. "There has been a general outrage, or at least there really was in season one, which I found kind of surprising," she said. "Because I thought the conversation was going to be about the difference between the way that men and women saw the same situation." The affair on its own was kind of a given, Treem noted, seeing as that's the title of the show. She added: "I think part of it is because the marriages to begin with were quite strong in different ways, and so I think what's particularly threatening about the idea is that an affair can happen in a good marriage."
At least one person claims to have seen the show's real-world ripple effects: A man who stood up to ask a question said he was a divorce lawyer and declared that the show was "actually reverberating in the divorce community." Jackson was skeptical: "Can I say that if you're so paranoid about your spouse having an affair that a TV show is what tipped you over the edge, it's probably not the TV show?" But Tierney seemed a little proud, remarking, "Well, we're killin' it in the divorce community." And for Treem, it became a larger commentary on the state of television: "There was a time during In Treatment, where the psychology community felt very influenced by the show," she recalled. "Television … has become a medium that, at this moment, the culture is using to reflect itself back."